Air Arabia Online Booking is your source for discounts on Air Arabia tickets and Air Arabia flights. Based in Sharjah, United Arab Emirates, Air Arabia is a pioneer in the economic travel sector in the Middle East and North Africa, as part of its social responsibility charter is to make travel accessible to all at competitive prices. Get the best Air Arabia Offers and Air Arabia Promo Codes from Almowafir – right here on this page!
Air Arabia Online Booking allows you to book flights, hotels, and holiday packages that include travel and accommodation to many countries in the Middle East, Africa, Europe and Asia, and ensures the provision of additional services such as adding luggage, seats, meals, insurance and even amazing services at the airport such as carrying luggage, waiting in private lounges, and fast procedures at the airport. Do more than book your Air Arabia flights & Air Arabia tickets via the internet – also you can check-in before your flight & take care of other procedures online!
Air Arabia offers many discounts to its customers, including Air Arabia promo codes and Air Arabia coupons for many destinations around the world. Get them exclusively through Almowafir – and combine them with the best price guarantee offered when you use Air Arabia online booking to save a lot of money.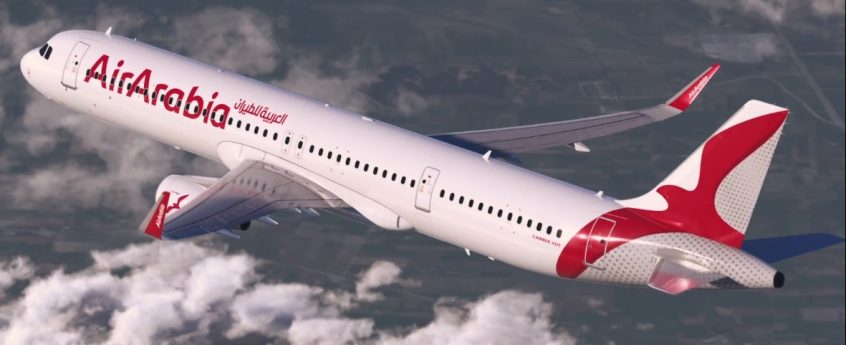 Air Arabia online booking is one of the best travel, hotel and holiday package reservation sites online in the Arab Gulf region, the Middle East and North Africa. These are the most important reasons that we recommend Air Arabia online booking for all your Air Arabia tickets and Air Arabia flights.
Just input your destination and place of departure & reserve! – Air Arabia offers you more than 170 destinations around the world to book your flight and stay as you wish, and allows you to manage your reservation yourself with a bundle of additional services.
Compare the prices of tickets and hotels – Air Arabia online booking allows you to compare the prices of the tickets and flight paths that you want and their advantages, and the prices of hotels and their conditions and services to choose what suits you and meets your needs.
Saving Money – Almowafir offers you Air Arabia offers, Air Arabia promo codes, & Air Arabia coupons on many flights, travel destinations, hotel reservations, and vacation packages, in addition to the best price guarantee service on all its offers.
Safe payment options – they are many, you can learn about them on Air Arabia online booking according to your country.
Almowafir has the best prices on Air Arabia tickets & Air Arabia flights, hotels, holiday packages (hotel + flight) and cars (low-cost car rental) online.
Air Arabia gives its customers with many ways to pay for reservations online, and they vary from country to country. You can view the payment options available in each country in detail on the website.
Rehlat
Agoda
Etihad Airways
Emirates Airways
Emirates Holidays
Almosafer
Tajawal
Hotels.com
Flyin
Use Air Arabia discount coupons or codes
Air Arabia gives its customers discount coupons discount codes to use when booking airline tickets, travel flights, hotels and holiday packages. You can get the best Air Arabia promo codes & Air Arabia offers right here on this page!
Learn how to use your e-ticket!
Your name, passport number and reservation details, flight itinerary and payment details are all kept electronically and sent to you via email.
Verify that your reservation has been confirmed on Air Arabia.
When you book your flight and after completing the payment process – i.e. pay the full costs, log into Air Arabia to make sure your flight is logged in your personal area
You can reserve a preferred seat or order a special meal.
When you book your flight on the Air Arabia website you get a package of airport services such as the fast track, prior seat selection, or meal preference
Make sure to amend your reservation on Air Arabia website at least 24 hours before your flight departs!
You can amend the reservation online through the reservation amendment form or by contacting the call center of Air Arabia. Remember that standard fees for modifying your reservation will be charged.
You can cancel your flight and get your money back on the Air Arabia website.
You can cancel reservations on the Air Arabia website through the cancellation form or by contacting the Air Arabia Call Center. Please note there is a cancellation fee.
In the event that you book a flight, you are responsible for the proper transportation between airlines!
When taking a flight broken up by a transfer, you must get yourself to the next flight on time!
Distinguish direct flights, 1 stop flights, and those with 2+ stops!
Be aware when booking how long your trip will actually take, how long you'll expect to layover, and where.