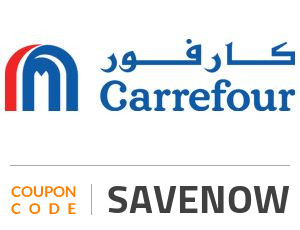 Carrefour Discount Code for Nov 2023: Up to 65% OFF + 10 SAR EXTRA on KSA orders!

RWith the Carrefour KSA discount code from Almowafir, every customer can save 10 SAR on a wide range of products such as groceries, household goods, electronics, clothing and much more. Carrefour wants their customers to benefit as much as they can, so… Read more about Carrefour coupons
Still Looking?
Here are some offers you might like
Carrefour Promo Codes & Deals
Carrefour Coupon Stats
Used today: 7
Total offers: 18
Coupon codes: 18
Best discount: Up To 60% OFF
Carrefour KSA Discount Code Nov 2023 SAVENOW– Get an EXTRA 10 SAR OFF
RWith the Carrefour KSA discount code from Almowafir, every customer can save 10 SAR on a wide range of products such as groceries, household goods, electronics, clothing and much more. Carrefour wants their customers to benefit as much as they can, so they are working with Almowafir to provide extra discounts and offers to save today! so, get your Carrefour discount code Nov 2023 SAVENOW and save on every purchase.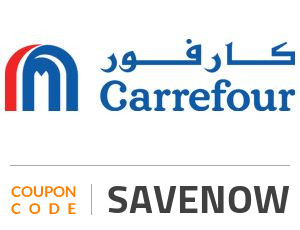 Discount Tips for Carrefour KSA
At Carrefour KSA, enjoy discounts and savings on your purchases with the following tips.
You can benefit from amazing discounts or promotional offers upon placing your first order.
Watch for seasonal sales and promotions, where Carrefour KSA KSA often gives big discounts on a wide range of products.
They also frequently have daily deals and weekly specials, featuring discounted prices on selected items. Subscribing to Carrefour KSA 's newsletter or following their social media accounts may provide you with access to exclusive discounts or flash sales.
Also make sure to go to Almowafir first, before checking the Carrefour KSA KSA website for any ongoing promotional or discounts that can help you save money while shopping for your desired clothing and accessories.
About Carrefour KSA Stores
Carrefour KSA stores are well-known for their quality products, wide variety, and convenient shopping experiences. Here are some key aspects that make Carrefour KSA stores stand out:
Extensive Product Range: Carrefour KSA stores offer a diverse selection of products, ranging from groceries and household items to electronics, clothing, toys, and more. Shoppers can find everything they need under one roof, making it a convenient destination for their shopping needs.
Quality and Freshness: Carrefour KSA places a strong emphasis on quality and freshness. They prioritize offering high-quality products, including fresh produce, meats, and dairy items. This commitment ensures that customers can trust the products they purchase from Carrefour KSA stores.
Competitive Prices and Promotions: Carrefour KSA is known for its competitive pricing strategy. They strive to offer affordable prices to cater to a wide range of budgets. In addition, Carrefour KSA frequently runs promotions, discounts, and special offers to provide additional savings for their customers.
Modern Store Layout: Carrefour KSA stores are designed with a modern and spacious layout, allowing for easy navigation and a pleasant shopping experience. Clear signage, organized sections, and well-stocked shelves make it convenient for shoppers to find the products they need quickly.
In-store Services and Facilities: Carrefour KSA stores offer additional services and facilities to enhance the shopping experience. These may include in-store bakeries, delis, fresh food counters, pharmacy services, money transfer services, and more. Such services add convenience and value for customers.
Online Shopping and Delivery: Carrefour KSA provides an online shopping platform, allowing customers to browse and purchase products from the comfort of their homes. They also offer efficient and reliable delivery services, ensuring that customers can receive their purchases at their doorstep.
Customer Engagement: Carrefour KSA engages with its customers through various initiatives. They frequently organize events, promotions, and activities to create an interactive and engaging shopping environment. Additionally, Carrefour KSA actively seeks customer feedback and incorporates it into their continuous improvement efforts.
Sustainability Initiatives: Carrefour KSA places importance on sustainability and environmental responsibility. They undertake initiatives to reduce waste, promote eco-friendly practices, and offer sustainable product options to shoppers.
Overall, Carrefour KSA stores provide a comprehensive shopping experience with a wide range of products, competitive prices, convenient services, and a commitment to quality. These factors contribute to their popularity and make them a preferred choice for shoppers in KSA. So come to Almowafir and get a Carrefour discount code Nov 2023 SAVENOW today for great savings!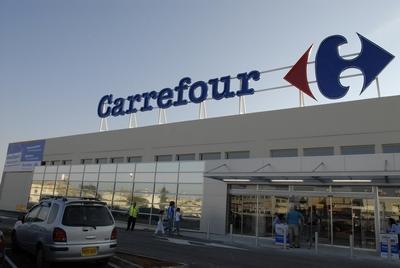 Why Carrefour KSA is the best
Carrefour KSA stands out as the best store in its class for several compelling reasons:
Extensive Product Range: Carrefour KSA offers an extensive selection of products across various categories, including groceries, electronics, household items, clothing, and more. Their comprehensive range of offerings ensures that customers can find everything they need conveniently in one place.
Competitive Prices: Carrefour KSA is known for its competitive pricing strategy. They consistently strive to offer affordable prices on a wide range of products, making them a cost-effective choice for shoppers in KSA.
Quality Assurance: Carrefour KSA prioritizes the quality and freshness of its products. They partner with trusted suppliers and employ rigorous quality control measures to ensure that customers receive high-quality and reliable products.
Customer-Centric Approach: Carrefour KSA places a strong emphasis on customer satisfaction. They prioritize customer needs by providing a pleasant and convenient shopping experience, offering excellent customer service, and actively seeking customer feedback to continuously improve their services.
Promotions and Discounts: Carrefour KSA frequently runs promotions, discounts, and special offers, providing additional savings to customers. These attractive deals make shopping at Carrefour KSA even more rewarding and budget-friendly.
Technological Advancements: Carrefour KSA embraces technology to enhance the shopping experience. They offer online shopping platforms, mobile applications, and efficient delivery services, providing customers with the flexibility to shop anytime, anywhere.
Sustainability Initiatives: Carrefour KSA demonstrates a commitment to sustainability by implementing various initiatives to reduce waste, promote eco-friendly practices, and offer sustainable product options. This approach resonates with environmentally conscious shoppers.
Community Engagement: Carrefour KSA actively engages with the local community through various corporate social responsibility initiatives, such as charity drives, educational programs, and supporting local businesses. This demonstrates their dedication to making a positive impact beyond retail.
With its diverse product range, competitive pricing, commitment to quality, customer-centric approach, attractive promotions, technological advancements, sustainability initiatives, and community engagement, Carrefour KSA sets itself apart as the best store in its class.

How to use a discount Code to save with Carrefour KSA Stores
Saving money using Almowafir discount s is easy! Just follow these simple steps:
Go to the Almowafir website or mobile app, then click on your favorite store page.
Many stores have multiple s and offers listed, so check which will give you the best deal on your purchase!
Click "More Details" to check terms and conditions on your chosen then click "Get " to open the popup.
Your discount will be copied automatically – or click the "Copy" button.
Your chosen store's site will launch in a new window after 3 seconds. Or click to "Go to" your store.
Add all of your favorite products to your cart, then proceed to checkout.
Paste the discount you copied into the field in the order summary.
Click "Apply" to activate the discount and check that your discount is reflected in the grand total.
Congratulations, you saved money!
Best categories to save on with a Carrefour KSA Discount Code
Carrefour KSA offers a wide range of products at discounted prices, making it a go-to destination for budget-conscious shoppers. Here are some product categories where you can find great discounts at Carrefour KSA:
Groceries: Carrefour KSA frequently offers discounts on groceries, including fresh produce, canned goods, dairy products, snacks, and beverages. Take advantage of these deals to stock up on your everyday essentials and save money.
Household Essentials: Look out for discounted household items like cleaning supplies, laundry detergents, personal care products, and kitchen essentials at Carrefour KSA. You can find significant savings on these everyday necessities.
Electronics and Appliances: Carrefour KSA often provides discounts on a wide range of electronics and appliances. From smartphones and laptops to TVs, refrigerators, washing machines, and more, you can find discounted prices on various tech gadgets and home appliances.
Clothing and Accessories: Carrefour KSA offers discounts on clothing and accessories for men, women, and children. Explore the discounted sections for stylish apparel, footwear, accessories, and even home textiles.
Home Décor and Furniture: Check out the discounted home décor and furniture items at Carrefour KSA. You may find discounted prices on home furnishings, decorations, bedding, and furniture pieces, allowing you to spruce up your living space without breaking the bank.
Toys and Games: Carrefour KSA often runs promotions on toys and games for kids. Keep an eye out for discounted prices on popular toy brands, board games, puzzles, and outdoor play equipment.
Baby Products: Carrefour KSA provides discounts on baby products, including diapers, baby food, formula, clothing, and accessories. This allows parents to save on essentials for their little ones.
Beauty and Personal Care: Find discounted prices on beauty and personal care products, such as skincare, hair care, cosmetics, fragrances, and grooming items at Carrefour KSA.
Sports and Fitness Equipment: Carrefour KSA occasionally offers discounts on sports and fitness equipment, including exercise machines, sports accessories, and gym gear. Look out for these deals to save on your fitness journey.
Seasonal Items: During special occasions and holidays, Carrefour KSA often provides discounts on seasonal items like decorations, festive food items, and gifts.
It's worth noting that the availability and duration of discounts may vary, so it's advisable to check Carrefour KSA's weekly promotions, online platforms, or visit their physical stores to stay updated on the latest discounted products.
Special Features @ Carrefour KSA
Online signup for top convenience
Download app for ease of service
24/7 Customer Service options
Ongoing deals and offers to save money
Many advanced options available
Carrefour KSA Delivery
Small items will be delivered by UPS / Aramex. These items include, among others: computers, all information technology products, video products (projectors, DVD players, etc.) mobile phones, GPS devices, and cordless phones. The charge will be found in the order confirmation.
Carrefourksa.com offers free delivery for TVs larger than 32 inches and large kitchen appliances including refrigerators, freezers, washing machines and dishwashers. While purchasing your item(s), please remember to provide a mobile phone number. The delivery agent will contact you.
Click and Collect:
1- Shop for items.
2- At purchase, select "Collect from store".
3- Choose a specific store and time to collect.
4- Arrive to collect items purchased.
Carrefour KSA services many popular cities:
Riyadh
Jeddah
Al MAdinah A Munawwa
Mecca
Al Khobar
Tabuk
Al Jubail
Khamis Mushait
Yabnbu
Hail
Al Hofuf
Dammam
MANY more
Payment methods for Carrefour KSA
Visa
MasterCard
Cash On Delivery
You can pay for your purchases online using any of the major credit cards (Visa, MasterCard) or by cash on delivery. Some international bank cards may be rejected, so contact Carrefour KSA at 800-441-4446 or through any of their pages on social media.
Carrefour KSA Return Policy
Carrefour KSA has a customer-friendly return policy that ensures customer satisfaction. If customers are not satisfied with their purchase, they can return eligible items within 7 days, provided they meet the return conditions. Carrefour KSA accepts returns with a valid proof of purchase and in their original condition, including packaging. Refunds can be issued in the form of store credit or returned to the original payment method. It is recommended to review the detailed return policy on the Carrefour KSA website or contact their customer service for specific guidelines and instructions on returning products.
FAQ- Carrefour KSA on Almowafir
Q: I have not received my discounts, what do I do?
A: Carrefour may be experiencing a problem with their  system. Please contact them at www.carrefourKSA.com/contact-us, or call their call center at 800-441-4446 as soon as possible.

Q: Is there a minimum purchase requirement to benefit from the 'Collect It Yourself' service?

A: There is no minimum amount for shopping, and the 'pick it up' service can be applied to any order of any value.

Q: Does Carrefour have an extended warranty?
A: Carrefour offers an extended warranty which is beyond the end of the original product warranty
But with the Carrefour extended warranty, you can enjoy a comprehensive and unique warranty

Save money with your Carrefour discount code & Almowafir's knife and cutlery buying guide
Choosing the best Carrefour UAE promo code cutlery is one of the most important things you can do for your cooking skills. This cutlery buying guide will definitely help you make the right choice and shop the best cutlery from Carrefour KSA & Carrefour UAE website.
The three basic Carrfour UAE shapes of the knife
There is a reason in the show, "Top Chef," the loser is told to "please pack the knives and go." This simple sentence is particularly important because knives are the workhorse of any chef or anyone interested in cooking.
They carefully care for their knives, sharpening the knives frequently, and carefully storing in the best tools. Use your Carrefour KSA promo code & Carrefour coupons to get lower prices.
For home cooks, too, finding the correct set of Carrefour code knives can make a difference in cooking. Some knives are suitable for certain types of tasks, and if you use the right knife, you will find cooking easier and more enjoyable. Use your Carrefour KSA promo code to save money.
These 10-piece knife sets might make you believe otherwise, but you only need several different knives to get most cutting tasks done. Avoid buying a set, even if it looks like a good deal, unless you're sure you'll be using every knife in the set.
Use your Carrefour promo code to shop chef's knife
This carrefour KSA coupon codes large, multi-purpose knife can be used to chop vegetables, chop chicken, meat, garlic, herbs and many more. If you watch cooking shows, you will see that it is usually the knife that you will watch the most, due to its versatility. Chef's knives come in lengths ranging from 5 to 10 inches.
Choose one that is large enough to make you feel comfortable. Keep in mind that a longer Carrefour UAE promo code knife will naturally give you more room to cut. You will also need to hold the knife and perform some cutting motions with it to see if it feels balanced in your hand and the handle is comfortable. Your Carrefour discount code and Carrefour coupon code are easy to use.
Use your Carrefour promo code to shop paring knife
The small, 2- or 4-inches knife is ideal for more delicate kitchen tasks, such as cutting small vegetables and fruits, slicing herbs, trimming fat from a piece of meat or slicing a wedge of hard cheese. If you find your small paring knives to be too short, the longer utility knives will give you more versatility.
Use your Carrefour UAE coupon code to shop serrated knife
A long serrated knife is important for slicing bread, slicing roasts and cutting soft vegetables and fruits like tomatoes. There are many other shapes of this knife, some of them are quite specialized. When you familiarize yourself with the shapes of the knives, you can determine whether certain shapes are useful or not.
Use your Carrefour uae coupons to shop knives and know more about construction types
Many Carrefour code knife shoppers get baffled by the many terms used to describe a knife sharpening: full tang, stamping, forged, high carbon, etc. Here's what you need to know:
Use your Carrefour KSA promo code to shop forged knives
The forged knives are considered the best quality. Each one is made individually from individual pieces of metal, and shaped under intense heat. Forged knives are heavy, durable, well-balanced, and usually have a sharp edge.
Use your Carrefour discount code to shop stamped knifes
When you get a Carrefour UAE stamped knife that means it is chamfered from a plate of flat steel, and the edges are then sharpened. Generally these knives are less expensive and are considered as not good quality knives. In addition the stamped knives don't hold a sharp edge such as the forged knives as well as the blade's weight is lighter and more flexible.
What's the difference between forged and stamped cutlery?
The "tang" refers to the metal part of the knife that extends into the handle. Use your Carrefour KSA coupon codes SAVENOW to save money. A full tang means that the metal from the blade runs inside the entire handle (and you can see the metal trapped along the edge of the blade). The advantage of a full tang is balance, the handle is a bit heavier, which gives you better stability and a better control.
Some knives are made with partial tangs, where the tang runs along the top of the handle, or the rat tail tang, which is a slender metal "tail" that extends into the handle and it is completely closed within the handle.
Save money with your Carrefour promo code & Anatomy 101 for a chef's knife
Most Carrefour UAE knife manufacturers pride themselves on the reputation of the metal that they often use to make their knives. Various minerals and elements can add properties to the final product, including durability, edge-keeping ability, ability to resist staining, impact, and many more
Carrefour UAE coupons carbon steel knives
Carbon is loved by certain fans because of its strength, but it sways easily and can also have a bad chemical reaction with some acidic foods. The most popular material for knives is stainless steel, which is a mixture of iron, carbon, chromium, and other elements to create a blade that has a good balance of being durable, stain-resistant, and easy to sharpen.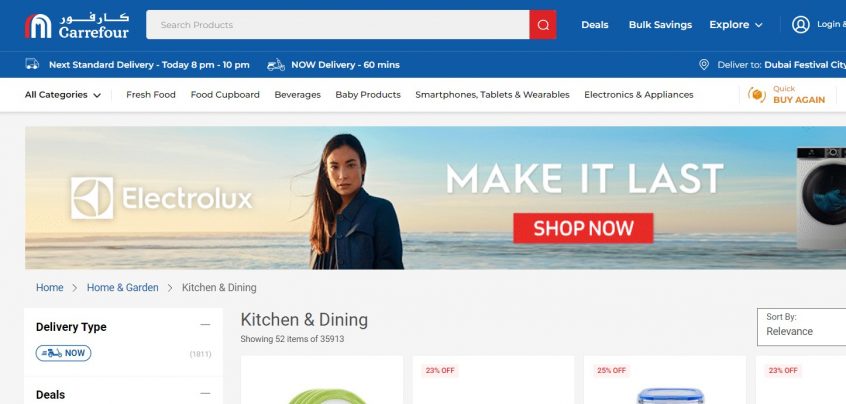 Carrefour UAE coupons for ceramic knives
Carrefour UAE ceramic knives also have their fans. This super tough material is lightweight, super sharp and won't dull easily. Of course, because it is ceramic, it will shatter if dropped and can also chip or break if used improperly. That is because ceramic is so hard, it cannot be sharpened in a home cleaning tool, and will likely have to be returned to the manufacturer or a professional for remodeling.
Carrefour UAE coupons for any knife
As for Carrefour code knife handles, you'll also find many different materials, including wood, composites, metal, and different types of plastic. The wood looks great, but it can warp or degrade over time. Look for plastic or composite that feels comfortable but it must have a stable grip (keep in mind you might use your knife with wet or greasy hands), and that riveted securely to the blade.
How do I shop the best Carrefour cutlery using my Carrefour KSA promo code SAVENOW?
Choosing a dining set 'wisely' is one of the first major decisions for many new housewives or newly engaged ladies. Use your Carrefour coupon code to save money. Gone are the days of gathering mismatched spoons and forks from your dorm years and post-college life, and now it's time to invest your money with a convenient and attractive set of tools that you can use for all the occasions that will happen during the next chapter of your life.
But you will quickly realize that there are huge quantities of cutlery sets with prices ranging from cheap to very expensive. So, to help you understand your options and pick the right set of tools, we've looked at the three key ingredients to consider when shopping for cutlery: metal construction, aesthetics, and finish or functionality. Read on to find out more about how each affects your final purchase cost.
Get the best metal composition knifes using your Carrefour KSA promo code
There are many Carrefour code metal options that you can choose from when purchasing your cutlery. The two leaders in quality and cost are metals such as sterling silver or silver-plated. They are very elegant options and should be reserved for formal casual occasions only.
Metallic composition refers to the percentages of chromium and nickel that are present in Carrefour KSA promo code stainless steel cutlery. According to luxury silver cutlery retailer Silver Superstore, chromium levels can affect how rust-resistant your utensils are, while nickel (an expensive material) can affect their luster. Use your Carrefour coupon codes to save money.
The Carrefour app cutlery function
Finishing refers to the features of the cutlery that affect its entire functionality, which is one of the biggest factors influencing when it comes to setting the price range. For example, rounded handles (the more rounded, the better the quality), the edges (the smoother they are, the more expensive), and other such features determine how comfortable the tools will be in the hands and how convenient they will be when using them. Get your carrefour discount code to save money. The final coat of paint can also make a big difference in how well the tools feel.
But while you'll want your Carrefour uae promo code cutlery to be elegant and sophisticated in design, you should also remember that it has a job to do and that is the element that will affect how well you enjoy your meals for many years to come. The finish/function in particular is an area to consider when choosing which group to invest your money in.
6 HOT TIPS from Almowafir to Shop at Carrefour KSA
1. Don't miss Carrefour offers and save a lot of money by using the latest Carrefour promo code
Check Carrefour KSA online offers when you shop from the Carrefour UAE store and take advantage of the discounts.
2. If a product malfunction you can return for repair.
This relates to the quality assurance, terms, and conditions provided by the manufacturer (trademark) or distributor.
Carrefour KSA online store usually offers a two-year quality warranty on electronics, but you need to check the Carrefour KSA promo code products warranty terms and conditions according to the product that you purchase.
3. Distinguish between cash on delivery and delivery fees
When you use "pay on delivery" as a payment option, you will be charged an additional fee of 10 SAR in all cases.
If that the total value of your order is less than 100 SAR and you choose to cash on delivery. You can use your Carrefour deals with any payment option. You will be charged a delivery fee of 15 SAR, plus 10 SAR as your payment fee on delivery. Get your Carrefour discount code SAVENOW to save money.
4. Check your order confirmation
The Carrefour UAE & Carrefour KSA online store sends you an order confirmation message and payment details. Keep order confirmation, you may need it if you want to return a product.
5. Get nutritional foods suitable for your diet from customer service !
Do you only eat organic foods? Are you allergic to a specific food ingredient, for example, gluten? Can't eat dairy products? You can get lists of nutritional foods to be able to purchase products that do not affect your health.
6. Use the exclusive Carrefour KSA promo code & Carrefour coupon!
Almowafir gives you Carrefour coupon code for Carrefour KSA to buy everything you need from the Carrefour app store and save a lot of money!