COS Coupon Stats
Total offers: 4
Coupon codes: 4
Best discount: Up To 15% OFF

COS Discount Tips – Here's What You Should Do To Save Up To 15% With This Promo Code (A19N)
Promo codes are an incredible way to save money, and if you have the chance to use them, definitely don't skip out. However, coupons aren't the only way you can save money while shopping. Here, we're going to share some of our favorite tips for saving money at COS:
Browse the COS website for ongoing sales. COS has a "Sale" section on its website containing all its currently discounted items. This means that you can get them at those lower prices without having to do any additional work. Furthermore, when you shop this way, you never have to worry about a discount being out of date or invalid, as it's coming from the COS website itself.
Get coupons online. This one comes as no surprise, but it's worth mentioning nonetheless. When you opt for this method of saving it's paramount that you have a reliable and trustworthy source to get your coupons from.
That's where Almowafir comes in. It's a top-notch website for all things coupons that you can trust with any coupon you come across. When you are looking for coupons, you need to make sure that they are: valid, applicable to your region, and active. To save yourself the trouble of always having to check all of these things, it's best that you turn to Almowafir, which does that work for you.
Buy items in larger quantities. It's easy to forget about the additional costs of online shopping, but they are not unimportant. Shipping is a huge factor in the final price of your order, so doing everything that you can to reduce it is vital. COS offers free shipping if your order value is above SAR 199. So, plan ahead and make a list of things that you want to buy, and get them all at once. That way, you save more in a convenient and low-effort way.
Sign up for the COS newsletter. If you sign up for the newsletter, you'll get 10% off on your first order, which is a great offer, especially when paired with the previous tip. Additionally, that way, you'll be notified of all the important information about the brand including promotions, sales, and new arrivals. It's a win-win!
About COS
COS is a contemporary, modern brand that is focused on providing its customers with high-quality, trendy, diverse clothes for both men and women. Aside from clothing, you can also find accessories, including jewelry, bags, sunglasses, scarves, and more.
In addition to COS' passion for fashion, they are also focused on protecting the environment. Sustainability is a huge part of their brand and it's not only for show. When you visit their website, you can see a whole section on their sustainability methods, as well as the results they've had thus far.
Year after year, they are getting more and more successful in sourcing their materials responsibly, and that those materials are organic and conventional so that they can stand the test of time.
What's more, COS has some wonderful options for their loyal customers which give an abundance of benefits and ensure that you are satisfied and eager to shop with them again. Some of them are their Aura loyalty club, Click & Collect feature, eGift Cards, and so much more.
Their customer service is professional, available, and ready to help you get exactly what you need, which is a hugely important facet of shopping that gives you much-needed security.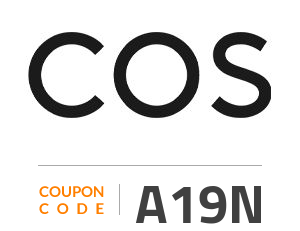 How To Use The COS Promo Code (A19N)
There are many benefits to using promo codes and when you realize just how easy it is to do that, you'll never shop without them. We'll break it down for you, step-by-step so that you know exactly what you need to do. This is how:
Go to Almowafir and find the COS page.
Browse through the available coupons to find the one you like the best.
Click the "Get Code" button. This will automatically copy the coupon for you.
You will be automatically transported to the COS website, where you can do your shopping.
Select the items you want to buy and add them to Cart.
Once you're at Checkout, find the space designated for coupons and paste the promo COS promo code.
Watch the code do its magic!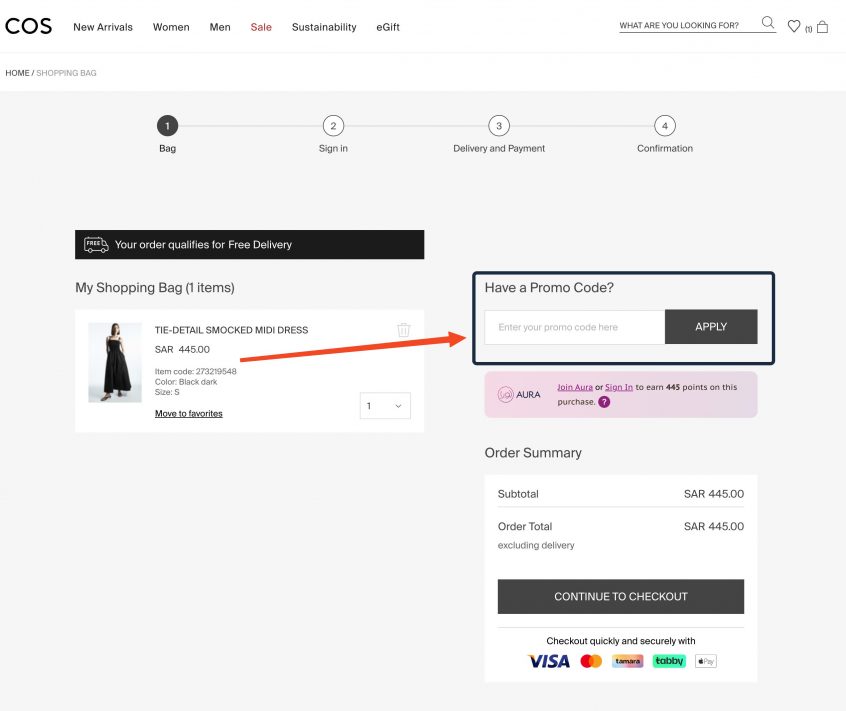 COS Features
As we've briefly mentioned before, COS has some amazing features to make your experience shopping with them as enjoyable as possible.
First, you have the Aura loyalty club. It's pretty simple – every time you shop, you're collecting points on Aura. The number of points depends on the value of your purchases. You can later redeem those points on your next purchases or use them on a wide range of experiences and benefits.
It is a tier system, which means that you have the opportunity to advance as you shop and get better options and benefits the more your spend. There are three tiers: Aura Hello, Aura Star, and Aura VIP. When you start the loyalty program, you are in the Aura Hello tier, once you've earned 6,000 points, you become an Aura Star member, and with 24,000 points you are in the Aura VIP tier. As you advance through the tiers, you'll earn points faster and faster, so you'll see the benefits rather quickly.
Next, we have the eGift Cards. They are a great solution when you need a quality gift for your friends or family, but aren't quite sure of what to get. This way, you allow them to choose the gift for themselves, while ensuring that you get your money's worth.
Moreover, there's a COS Atelier section, which is a high-end, luxury capsule collection that will satisfy all your desires for rich fabrics, elevated designs, impeccable craftsmanship, and elegant styles.
Shipping Methods
COS delivers everywhere in the Kingdom of Saudi Arabia, and depending on where you're located, the length of the delivery will vary.
There are two options when it comes to how you'll get your order. You can either opt for home delivery, meaning that you'll receive your package at your door, or you can choose the Click & Collect option. That means that you place your order online, but pick it up at the store yourself.
The delivery charge is SAR 20 on orders under SAR 199, and free for orders over that.
Your order will be delivered within 1 to 5 days, depending on your city. If you are located in Jeddah, Riyadh, Dammam, Khobar, Dere'iyeh, or Dahran, your order will be delivered in 1-3 days. If you're in Makkah, Madinah, Kharj, or Jubail, it will be delivered within 1-5 days.
Payment Methods
There are a few payment methods you can choose from, depending on what's the most practical for you.
You can pay via Credit or Debit cards – MasterCard and Visa are both an option. Furthermore, you can utilize the Buy Now, Pay Later option with the help of Tabby. There's also an option of using Mada. Currently, the Cash on Delivery or Paypal options are not available.
Return Policy
You have 14 days to return your order, counting from the day you received it. In order to successfully return your items, you have to get them back to the nearest store in their original packaging with tags still attached and also have a relevant invoice.
While the items are still with you, you must ensure that no damage is done to them, as a return won't be possible if any damage is made while the items are with you.
The following categories of items aren't returnable: underwear, swimwear, lingerie, fragrances, and health & beauty products.
If you purchased the items via an eGift Card, you will receive your refund to the Gift Card. For purchases made through a combination of payment methods, the refund will be made to both of those in the original amounts.
The refund will be issued upon receipt of the returned or exchanged products.
You can also exchange items. Simply visit the nearest store, choose the items you want, and exchange the ones you've already purchased.
Reaching Cos Customer Support
Cos Customer Support is reachable through various channels:
Contact Page (Suitable for both phone and email communication)
Cos on Social Media
Cos Promo Code & Current Discount Offers Frequently Asked Questions
Question 1: Where can I find a COS promo code?
Answer: The Internet is filled with all sorts of coupons, so that's your main source. However, be cautious of where you get your coupons from. Some websites don't update coupons regularly and don't offer all the necessary information. So choose your sources carefully. Opt for Almowafir and you won't have to worry about anything.
Question 2: How many times can I use a promo code?
Answer: You can only use a promo code once. After you've entered it at checkout and processed your order, it won't be applicable. However, Almowafir often has more than one available promo code on their website, so you can always choose one of the remaining ones for your next orders.
Question 3: When does COS' Customer Service work?
Answer: Their Customer Service team is open from Saturday to Thursday between 9 am and 10 pm, and on Friday from 1 pm to 10 pm (including Public holidays). What's more, you can also fill in their quick form found on their website, and they will get back to you as soon as possible.
Question 4: Does COS also offer menswear?
Answer: Yes, COS also caters to male consumers. They are dedicated to catering to a wide range of customers who all have one thing in common – their love of high-quality, fashionable clothes and accessories. This includes both men and women.
Shipping Methods
Standard shipping (1-3 / 1-5 days)