Still Looking?
Here are some offers you might like
Wego Coupon Stats
Used today: 43
Total offers: 10
Coupon codes: 1
Best discount: Up To 70% OFF
Wego Promo Code Sep 2023 STAYWEGO5 Sep 2023– Up to 70% Off for flights, hotels and more!
Wego, is a very popular travel booking platform that offers a wide range of discounts on various travel-related services. Customers can enjoy up to 70% in discounted rates on flights, hotels, and vacation packages, making it easier to explore new destinations while saving money. Wego also provides discounts on car rentals, allowing travelers to conveniently explore wherever they choose to travel. Additionally, Wego offers special promotions for activities and tours, which gives customers the ability to engage in unique experiences at great savings. With Wego's discounts, individuals can plan affordable trips, whether for business or leisure, and enjoy the convenience of a one-stop platform for all their travel needs. Don't miss out on savings by using a Wego promo code STAYWEGO5 Sep 2023 or Wego deal from Almowafir today!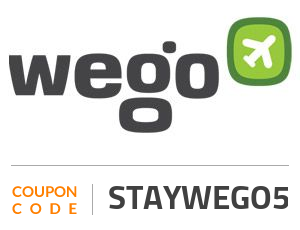 Discount Tips for Wego
At Wego enjoy discounts and savings on your purchases with the following tips.
You can benefit from amazing discounts or promotional offers upon placing your first order.
Watch for seasonal sales and promotions, where Wego often gives big discounts on a wide range of products.
They also frequently have daily deals and weekly specials, featuring discounted prices on selected items. Subscribing to Wego 's newsletter or following their social media accounts may provide you with access to exclusive discounts or flash sales.
Also make sure to go to Almowafir first, before checking the Wego website for any ongoing promotional or discounts that can help you s
About Wego Stores
Wego is a leading online travel marketplace that provides a platform for travelers to search, compare, and book flights, hotels, and vacation packages. Founded in 2005, Wego has grown into a global brand with a presence in over 50 countries, catering to millions of users worldwide.
One of the key features that sets Wego apart is its ability to aggregate and display real-time prices and availability from hundreds of travel websites, airlines, and hotel chains. This allows users to easily compare all the options, getting them the best deals so they can make informed decisions. The user-friendly interface and intuitive search filters make the booking process easy.
Wego's dedication to customer satisfaction is evident in that the platform is available in multiple languages and currencies, catering to a diverse international clientele. Whether users are planning a business trip, a family vacation, or a romantic getaway, Wego offers a wide range of options to suit every budget discount coupons and preference.
Wego's mobile applications for iOS and Android devices enable users to search and book on the go. This ensures flexibility and convenience when creating a travel plan. The apps provide personalized recommendations, price alerts, and the ability to store traveler preferences, making the booking experience even more efficient.
In addition to flights and hotels, Wego also offers an array of travel-related services. These include car rentals, airport transfers, travel insurance, and activities and tours. By providing this comprehensive list of services, Wego aims to be a one-stop platform for all travel needs, simplifying the planning process and enhancing the overall travel experience.
Wego's success can be attributed to its commitment to innovation and technology. The company continually invests in cutting-edge tools and technologies to enhance its search capabilities and provide the best possible results to its users. Its partnerships with industry-leading travel providers further strengthen its position in the market and ensure a wide range of options for customers.
Overall, Wego has established itself as a trusted and reliable travel booking platform, offering convenience, choice, and value to its users. With its global presence, user-friendly interface, and commitment to customer satisfaction, Wego continues to be a preferred choice for travelers seeking the best deals and a seamless booking experience.
So use Wego today to plan you next trip, and save on every service with a Wego promo code STAYWEGO5 Sep 2023 or Wego deal from Almowafir!
Why Wego services are the best in their category
Wego stands out in the competitive travel industry due to several key factors. Here are the top five categories that contribute to making Wego one of the best in the business:
Comprehensive Travel Options: Wego offers a vast array of travel options, including flights, hotels, vacation packages, car rentals, airport transfers, travel insurance, and activities. By providing a one-stop platform for all travel needs, Wego saves users time and effort by eliminating the need to visit multiple websites or platforms.
Aggregated Real-Time Data: Wego's ability to aggregate and display real-time prices and availability from numerous travel websites, airlines, and hotel chains gives users access to a wide range of choices. This feature allows travelers to compare and find the best deals, ensuring they get the most value for their money.
User-Friendly Interface: Wego's user interface is intuitive and easy to navigate, making the booking process straightforward for users of all levels of technical expertise. The platform offers helpful search filters, personalized recommendations, and stored preferences, enhancing the overall user experience and ensuring a seamless booking process.
Mobile Accessibility: Wego understands the importance of mobile technology in today's fast-paced world. The availability of Wego's mobile applications for iOS and Android devices enables users to search, compare, and book on the go. The mobile apps provide convenience and flexibility, allowing travelers to make bookings anytime and anywhere.
Global Reach and Localized Experience: With a presence in over 50 countries, Wego caters to a diverse international audience. The platform is available in multiple languages and currencies, ensuring a localized experience for users around the world. This global reach allows Wego to offer a wide range of travel options and services, tailored to the specific needs and preferences of different regions.
These five categories combine to make Wego one of the best travel booking platforms in the industry. By offering comprehensive options, real-time data, user-friendly interface, mobile accessibility, and a global-local approach, Wego continues to attract and satisfy millions of travelers worldwide. So, choose to use Wego and save on every ride with a Wego deal STAYWEGO5 Sep 2023 from Almowafir!

How to use a Promo Code to save with Wego
Saving money using Almowafir discount is easy! Just follow these simple steps:
Go to the Almowafir website or mobile app, then click on your favorite store page.
Many stores have multiple s and offers listed, so check which will give you the best deal on your purchase!
Click "More Details" to check terms and conditions on your choice then click "Get " to open the popup.
Your discount will be copied automatically – or click the "Copy" button.
Your chosen store's site will launch in a new window after 3 seconds. Or click to "Go to" your store.
Add all of your favorite products to your cart, then proceed to checkout.
Paste the discount you copied into the field in the order summary.
Click "Apply" to activate the discount and check that your discount is reflected in the grand total.
Congratulations, you saved money!
Best categories to save on with a Wego deal
Wego offers a diverse range of travel-related services to cater to the needs of its users. Here are 10 services provided by Wego:
Flight Bookings promo code: Wego allows users to search and book flights from a wide range of airlines, offering options for domestic and international travel.
Hotel Reservations promo code: Users can browse through a vast selection of hotels and accommodations worldwide, comparing prices and amenities to find the perfect place to stay.
Vacation Packages promo code: Wego offers curated vacation packages that include flights and hotel bookings, providing convenience and savings for travelers looking for all-in-one solutions.
Car Rentals promo code: Users can rent cars through Wego, allowing them to explore their destinations with ease and flexibility.
Airport Transfers promo code: Wego provides options for airport transfers, ensuring smooth and hassle-free transportation between airports and accommodations.
Travel Insurance promo code: Wego partners with insurance providers to offer travel insurance coverage, providing peace of mind for unexpected events during trips.
Activities and Tours promo code: Users can book a wide range of activities and tours through Wego, including sightseeing tours, adventure activities, cultural experiences, and more.
Group Bookings promo code: Wego facilitates group bookings, making it convenient for families, friends, or colleagues to plan and book their trips together.
Price Alerts promo code: Wego offers price alerts, notifying users when there are significant changes in flight or hotel prices, helping them seize the best deals.
Travel Inspiration and Guides promo code: Wego provides travel inspiration and destination guides, featuring informative articles, recommendations, and tips to assist users in planning their trips.
These services collectively ensure that Wego serves as a comprehensive travel platform, covering various aspects of travel planning and booking. Whether it's flights, hotels, vacation packages, car rentals, or activities, Wego aims to provide a seamless and convenient experience for travelers worldwide.
Wego Customer Service
Customer Service: here
Phone:
Supports Arabic & English Languages
Egypt (24 hours)
02–21279930

Worldwide (24 hours)
+202–21279930

Email: support@wego.com
Whatsapp:
Supports Arabic & English Languages
+971588250786
Follow Wego on Social Media:
Special Features @ Wego
Online signup for top convenience
Download app for ease of service
Strong Customer Service options
Ongoing deals and offers to save money
Many advanced options available
Payment methods for Wego
Visa CC/DC
MasterCard CC/DC
Wego Cancellation Policy
Airline cancellation:
Cancellation and refund policy depends on the airline and the type of fare you are booking. Wego recommends you to check with the airline or travel agent directly if you have any inquiry regarding cancellation and refund policies.
Hotel booking:
To change or cancel your booking, Wego recommends you to contact the booking site directly. In case you don't know the name of the booking site, you can check the booking confirmation email that you received or your bank statement as the travel agent or airline name may appear next to any outgoing payment or charge.
FAQ- Wego on Almowafir:
Q: What if I find that prices on providers' sites are different from Wego?
A: Wego always do their best to ensure that the prices are accurate and up to date; however sometimes there might be some technical issues that lead to some discrepancy in the prices displayed so if you see any difference in price, please send them a screenshot of the price on Wego and the price on the provider site at support@wego.com and their team will investigate the issue and work hard to solve it.
Q: What should I do, if I didn't receive a confirmation email?
A: If you didn't get a confirmation from the booking site you booked with don't try to book again – you could end up with two bookings – it's always best to speak to the booking site first. In some cases, it may take up to 24 hours for the booking site to send the booking confirmation. Also, please check out the tips below:

Check your email carefully and make sure if you already receive the booking confirmation.
Check your spam folder to make sure if the booking confirmation had been filtered into the spam folder.
Check your bank statement as the travel agent or airline name may appear next to any outgoing payment or charge.
Q: What should I do if the currency on Wego is different from the booking site?
A: Some airlines or travel agents show their prices in certain and limited currencies. If you are going to pay for a flight in a different currency than what your bank uses, we recommend you to contact your bank to know the exchange rate that will apply to you as the booking site might use a different exchange rate.

Can Wego help me if I can't find a certain airline, route or airport?
If you can't find a certain airline, route or airport, please let Wego know via any of their customer service channels. Wego does its best to add as many airlines, routes and airports; however, if you can't find it on Wego, it might be because they are either small or new.

Q: Will Wego ever ask me to transfer money to them?
A: Wego will never request for:

1. Money transfers, 
2. Any form of offline payments. 
3. Any payments through a third party on behalf of their company. 

Should you encounter any issues like these, report them to the Wego support staff via email support@wego.com or their live chat feature.

Almowafir Has Wego Promo Codes to save you money
Wego has more than 1,000 travel sites instantly and displays results from airlines and online travel agencies. Wego Kuwait & Wego KSA processes millions of flights every year and uses that data to help you to get the best booking with awesome features such as comparing ticket prices, book flights, hotels and airlines from various companies. This means that you will ensure that you will get the best flight or hotel reservation with the best prices. Use your Wego flight offers, or Wego promo codes to save money while you enjoy your time.
What are the best services to book and save on with a Wego promo code
Flights – You can book single flights, round trips, or multiple destinations (advanced search). You can search for flight offers by selecting the departure station, arrival station, the date you wish to travel and the date of your return (i.e. flight duration), the reservation class and the number of passengers. Passengers are classified into three categories by age – adults 12+, children 2-12 & infants 0-2. The results obtained can be sorted according to the proposed price, the time of departure and the duration of the flight, and you can also examine the price details and terms and conditions for each offered flight. It is very important to know the cancellation policy, change of reservation, amendment of the travel plan and others that are included in the ticket that you book. In addition, you can choose from Wego Kuwait offers and destinations for travel around the world with many advantages, privileges and facilities. Use them to obtain a satisfying travel experience. You can manage your reservation by purchasing extra services such as adding extra luggage, get food and choose your seat. Use your Wego flight offers, Wego ae discounts & Wego promo codes to save a lot of money.
Hotels – Wego KSA offers you a great price through their exclusive partner to complete hotel reservations. You can search for the hotel or destination you want, according to the arrival and departure times, number of rooms and people staying in it (adults and children). You can sort the hotels you got from the search results by lowest price to highest price or from highest to lowest guest rating. You can also see other categories of ratings such as star rating, guest rating categories, traveler options and discover the most famous landmarks, shopping, food and more.