Almowafir Guide to Benefits of Cerelac Instant Food For Baby!
Every parent wants the best for their baby.
At some point in their early growth and development parents start asking themselves just when is a perfect time and the best way to introduce healthy baby food and baby solid food, especially cereals, for the baby to try.
World Health Guidelines recommend that babies feed exclusively from breast milk for the first 6 months, but where this is not possible, or if the baby is not gaining weight, as per normal developmental curves, then it is possible to introduce baby solid foods as cereal, under doctors advice, even as earlier, possibly even as a 4 or 5 month baby food introduction.
At the 6 month landmark of baby's development, every parent will want to pick the best product to feed their baby; the most nutritious, pure and trustworthy, as a complement to either breast milk or formula. They will want to know the best baby food ideas, healthy baby food alternatives and puree baby foods to try out.
Many pediatricians recommend a complimentary diet of healthy baby food, soft and easily digested foods, from 6 months onwards of a cereal and Cerelac Cereal food for baby, is one of the most established and trusted names in the world.
It is perfectly possible to prepare baby solid food and puree baby soft foods at home, but it is difficult to know if these home produced baby food recipes are healthy baby food, containing all the necessary nutrients baby needs for maximum good health and development.
So a strategy of mixing the feeding routine between freshly made puree baby home foods and Cerelac Cereal food for baby, makes perfect sense in providing healthy baby food and balanced nutrition.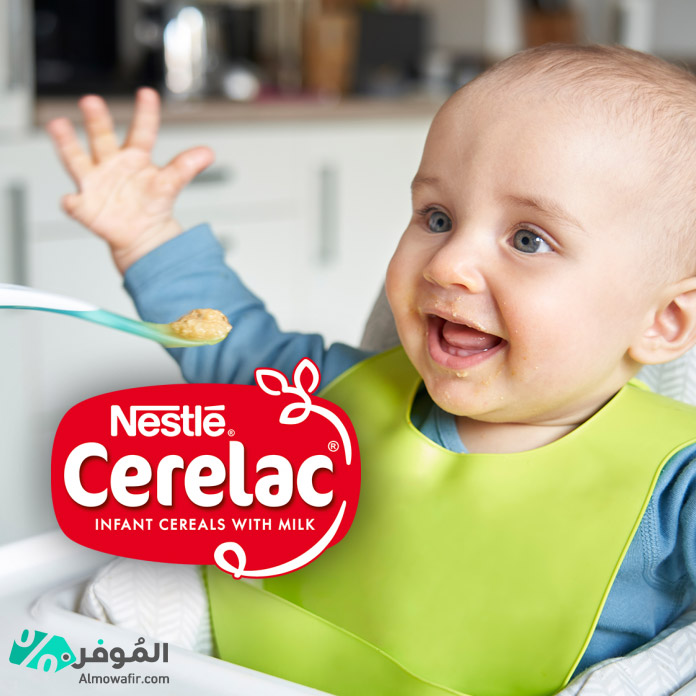 What are Cerelac Instant Cereals Infant Food ?
Cerelac is the most well known brand of instant cereal food for babies, made by Nestle, since 1949. Cerelac Instant Cereals include a range of nutritious, easily-digested baby solid cereal meals formulated to suit the age of the baby and can be found in three basic varieties: Cerelac Wheat, Cerelac Rice and Cerelac Maize. Cerelac Cereal is not a substitute for breastfeeding but rather an easily digested product during the weaning process or as an additional source of nutrition and healthy baby food.

There are multiple Cerelac Cereal products available to begin baby solid food tasting :

Cerelac Plain Wheat/ Rice/Maize
Cerelac Cereal and vegetables
Cerelac Cereal and dates
Cerelac Cereal and fruit (Apple, Banana)
Cerelac Cereal and honey
There are also available Cerelac Cereal varieties for older babies and infant foods that include Oats and other fruits.
Introducing Cerelac as First Steps of Solid Baby Food
Stage 1 (six months onwards): Formulated for babies who are six months old, it is available in three basic variants – Cerelac Wheat, Rice, and Maize. Any of these varieties can be given to the baby as a first food. These cereals are gelatin-free and are easy to digest.
Stage 2 (eight months onwards): It is available in two varieties – Banana and Honey.
Stage 3 (ten months onwards): This version contains real fruit pieces of different textures and tastes for babies who have developed the ability to chew.
Stage 4 (12 to 18 months): The babies are now ready to try the food the family is eating and hence can be presented with a wide array of choices. A few of the options available in this range are multigrain and fruits, multigrain and pulse, and multigrain and vegetables.
Stage 5 (18 to 24 months): At this stage, the product contains fruits in textured shapes as the babies can now chew the food given to them.
The Advantages of Cerelac Cereal Infant food for My Baby
Easy to prepare – just add warm (sterilized) water
Packed with all important nutrients as a healthy baby food
Several varieties and baby recipes to try out
Babies love the taste
Free of any chemical preservatives and colourings
Travel Friendly food for babies
Available in all good grocery outlets, pharmacies & online baby stores
Once opened, a package has a shelf life of up to a month
The Downsides of Cerelac Cereal Infant Food for My Baby
Cerelac Cereal has a small amount of added sugar and can make baby prefer sweeter tasting foods
Cerelac can cause too much weight gain too quickly (unless baby is undernourished)
Cerelac Cereal can be slightly more expensive than homemade healthy baby food and baby solid foods.



CERELAC FOR BABY FAQS
WHEN CAN I GIVE CERELAC TO MY BABY?
You can start giving your baby Cerelac, as a part of a balanced diet when your baby turns 6 months old. Make sure you include appropriate servings of baby puree recipes: fruits, vegetables, along with Cerelac Cereal.
IS CERELAC GOOD FOR MY BABY?
Cerelac is good as a complimentary source of nutrition for your baby and is considered healthy baby food. It is not a replacement for breast milk or formula.
WHICH CERELAC IS BEST FOOD FOR BABIES 6 MONTHS OLD?
If your baby is 6 months or older, you can give them Stage 1 Cerelac. The flavours available in Stage 1 Cerelac are Cerelac Rice, Cerelac Wheat and Cerelac Maize.
CAN WE GIVE CERELAC AT YOUNGER THAN 6 MONTHS?
All major health organizations have undertaken research and have concluded that babies should not be fed baby solid food until they are 6 months old. Cereal, as 5 month old baby food, can do more harm than good to your baby, compromise the immune system and can result in health issues like obesity later.

CAN I MIX CERELAC FOR MY BABY WITH FORMULA MILK?
You should never attempt to feed your baby Cerelac, or baby solid food in a bottle unless he has a specific medical condition and your paediatrician recommends doing so. Feeding Cerelac in a feeding bottle is a choking hazard and takes away from the amount of milk your baby needs. You should prepare Cerelac Cereal strictly following the instructions on the package – i.e., using sterilized lukewarm water and the recommended amount of infant food cereal.
HOW MANY CERELAC FEEDS SHOULD BE GIVEN PER DAY?
The World Health Organization (WHO) recommends that you should give 6 month old baby solid food 2 to 3 times per day  plus their formula or breastmilk. You can either give Cerelac 3 times a day or mix and match with a few other baby puree recipes of your choice.

CAN I GIVE MY BABY CERELAC CEREAL AT NIGHT?
The night is not the best time to try feeding baby solid foods for the first time. If your baby's digestive system is not able to digest the Cerelac meal, he might suffer through the night with colic. Moreover, studies have established that there is no difference in sleep between babies who were given baby solid food at bedtime versus milk at bedtime. If your child is older than 9 months, you can give him Cerelac at bedtime. For younger babies, try introducing baby solid food one by one during the day, including your own baby food ideas.
WHICH CERELAC IS BEST FOR TODDLERS?
Nestle has introduced healthy baby food choices such as Ceregrow Organic Selection for 2 to 5-year olds with organic grains, fruits and milk. The nutritional benefits from such products made from Organic Sources are excellent for your child as are natural baby food recipes.

Almowafir Says Cerelac Cereal is Great Food for Baby!
Cerelac Cereal is an excellent complimentary food to feed your baby. It is full of all needed vitamins and minerals, balanced as an optimal healthy baby food.
The experience of Nestle, who have been producing Cerelac Cereal since 1949 is well proven and the result is an ultra safe food for baby, well suited as supplementary food for 6 month old baby and older.
Be sure to follow your health provider or paediatrician guidelines of what is the best Cerelac Cereal routine and most healthy food for your baby.
It is easy to find Cerelac Cereal food for baby products on the shelves in most good supermarkets and pharmacies.
Buying Cerelac Cereal food for baby products online is a great way to use discounts and coupons on offer for baby products. So many online baby stores guarantee best buy prices and super-fast deliveries directly to your door.
Take a look at Mumzworld codes, Noon coupons, Amazon promo codes and many other top Almowafir Coupon Codes recommended online stores for top savings on Cerelac Cereal today!
Shop now for Cerelac Cereal products online. Take advantage of all exclusive Almowafir coupon offers to really get the most out of the best online stores in baby care and best buy baby food products
Download the Almowafir App on the play.google app store or the Apple App Store for the mobile best buys at your fingertips and deals on the go!