Michael Kors is a luxury brand popular worldwide and famous for its unique handbag style. The covetable new season carriers will lend a fresh feel to every outfit you wear.
Michael Kors has a huge selection of purses for every style and every occasion
Tote handbags
Bucket handbags
Crossbody bags
Shoulder bags
Messenger bags
Satchel bags
Camera bags
Suitcase
Purses
Weekender bags
Hobo bags
A crossbody purse is one of the most popular and versatile handbags.
Sophistication and elegance
Michael Kors is synonym of elegance, sophistication, and style. Famous for their signature structured shapes and high-quality materials, these classic purses also feature branded design elements, from the exquisite lining to the signature Michael Kors keyring. A Michael Kors bag always use high-quality materials like buttery leather, quality cloth, or nylon and durable metal hardware.
How can I spot a fake MK bag?
The side panels in fake MK bags are often made of two pieces of material and show a middle seam. The sides of a fake MK purse don't stay straight and they easily bend. Pay attention to the faux leather which is in general too soft. The rubber edging is made with two pieces and they easily separate from the edge.
Company info
Michael Kors is a famous American designer of luxury accessories and ready-to-wear. Michael Kors is known from the TV show Project Runway, in which the designer and man behind the Michael Kors brand, was one of the judges. His company, was founded in 1981 and it designs and produces a range of clothes and accessories under his signature Michael Kors Collection, MICHAEL Michael Kors and Michael Kors Mens labels. The design focuses on stylish elegance and a sporty attitude.
The accessories segment is the strongest revenue generator, generating over 50% of total net sales in 2021.
Today, Michael Kors is known for luxury sportswear and other kinds of clothing and accessories for men and women.
A strong brand name
Michael Kors has a very strong brand name. The designer himself is an esteemed celebrity designer and many celebrities identify with the designer and therefore purchase the products. The customers are extremely loyal and the brand has been fancied by women for the past 30 years. The price also makes the brand very attractive to its customer base.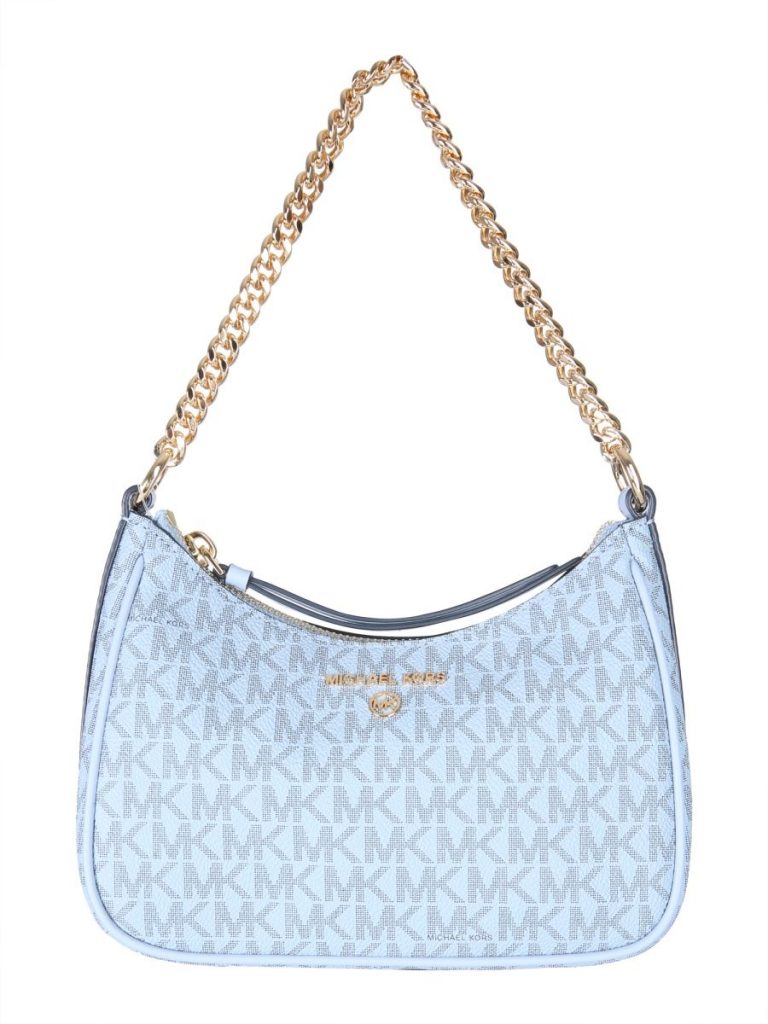 The products are easily recognizable thanks to the MK logo.
New season- new arrivals
For the new season, Michael Kors and famous sportswear brand Ellesse have launched a new collection with a strong seventies look and feel (bold colors, geometrical shapes, tight knitwear). The collab with Ellesse goes beyond the accessories with a series of outfit essentials for him and for her.
The Michael Kors Devon line of accessories is the epitome of carefree glamour. The refreshing new lines of blue and white ombré and blue streak on signature print purses are perfect choices for the summer.
Ready to shop?
We have tried to select all the best choices for Michael Kors bags, satchels, shoulder bags, crossbody bags, wristlets to help refresh your spring style and elevate your look.
Classic purses
If you are looking for a classic purse consider the Mercer gallery small satchel or the Women's Jet Set Travel Plum Leather Shoulder.
Trendy choices
Looking for a something trendy that won't weigh you down? The Michael Kors Lita medium two-tone logo crossbody or the Suri small saffiano leather crossbody bag are great choices.
You can replace your traditional handbag with a trendsetting backpack such as the Michael Kors Adele large pebbled leather backpack which is available in bold colors such as red and blue.
Larger totes
The Michael Kors Teagan large pebbled leather shoulder bag is perfect for the office whereas the Michael Kors Jodie large logo jacquard tote will allow you to carry around a tablet and even a change of clothes.
Some backpacks can also double for a small luggage bag.
Running errands or travelling
The Michael Kors medium logo convertible crossbody bag is perfect for running errands and keep your essentials close while you run from one store to the other.
Need to keep your essentials secure when traveling? Consider the Michael Kors small pebbled leather messenger bag.
Wristlets
If you are tired of carrying around oversized bags and only need to carry just the essentials, shop the Michael Kors wristlets or stunning smartphone wallets (the wallet also has has compartments for your personal items, such as credit cards and identification).
Wristlets can also be an extra accessory to keep in your tote and can be used in different situations.
Popular wristlets include the Michael Kors Jet Set medium logo crossover wristlet or the Michael Kors Women's Jet Set Travel Wallet (with the MK canvas).
The best deals
In Saudi Arabia, you can shop at Amazon KSA has a wide selection of Michael Kors bags and totes. (they have a huge category dedicated to Michael Kors and some items have a free shipping option).
Amazon offers Free Shipping, Free Returns and Cash on Delivery in addition to Credit card or Paypal.
Noon, the largest e-retailer in the Gulf also carries has a collection of Michael Kors handbags and luggage.
Price range in the KSA
Browse the Michael Kors sub category on the website to find the perfect item for your. The lowest price on the Amazon site is SAR395.72 and the highest price is SAR1,040.00
The lowest price on Noon is SAR 319 (for a red wristlet) and the highest price is SAR 874 (for a red large tote).
Coupons for Michael Kors bags
Make sure you check out Almowafir for the best Amazon coupons for 2022. Almowafir helps you save money on Amazon through a wide range of coupons and promo codes.
If you do not find the perfect Michael Kors purse on Amazon, feel free to purchase it on Noon and use the Almowafir Noon coupon.
Once you start the check out process on the website to pay for the item, you can apply the coupon code and benefit from huge savings.