Oriental fragrance lingers on the skin usually longer than occidental fragrances, however there are some perfumes for men that last long and are perfect for a date night for example.
What kind of perfume stays longer?
Perfume (or Parfum in French) contains the most oil and usually is the most expensive with the longest staying power. The next options are eau de parfum and eau de toilette, eau de toilette being the most suitable for everyday application.
What is the longest lasting scent?
The longest-lasting perfumes and colognes usually have an amber scent. The longest-lasting notes after that are oriental, woodsy, and musk notes such as patchouli, sandalwood, resin, tuberose, and vetiver.
Which Notes Last the Longest?
Fragrances are usually structured to have three layers: the top, middle, and base notes. These layers will determine what you smell when you first spray the fragrance on your skin and then what lingers throughout your day.
What Makes a Fragrance Last Long?
If you've experimented with different fragrances, you've probably discovered that some of them seem to last longer than others. There are several factors that contribute to the length of time a scent stays in the air or on your skin once you've sprayed it.
• Concentration. The more concentrated a scent is, the more powerful its smell will be and of course the longer it will last.
• Fragrance Notes. As explained before, fragrances are made of 3 layers including the base notes which are the ones that stay longer on the kin. (Some cheap fragrances skip the base notes, which can explain how short-lived they are). The top notes are what you smell when you first spray a cologne, the mid notes are the heart of the fragrance, and the base notes linger long after the other notes have faded.
• Skin Chemistry. Believe it or not, dry skin does not have the necessary oils to distribute the scent evenly, and therefore a cologne that smells great on someone else, can fall flat on your skin. One way to control this is to apply some moisturizer before spraying your cologne.
We will review below some men's perfumes that have base notes with a strong scent and that will usually linger on your skin for quite a long time.
Bleu de Chanel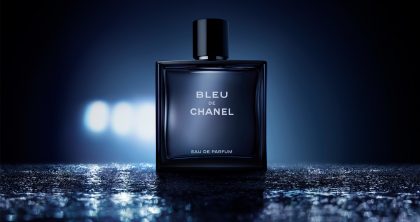 The longevity of Bleu de Chanel is amazing. You can expect it to last anywhere from two to four hours if you wear a light application such as the Eau de Toilette, and up to eight hours if you wear the perfume or Eau de Parfum. Bear in mind that this scent is very strong so it's important not to apply too much perfume on your skin.
Bleu de Chanel doesn't last very long when you wear the Eau de Toilette version, especially in the wintertime. Indeed the citruses tend to fade away from the skin quite quickly making this version of the perfume last a couple of hours.
Versace pour Homme
Its base notes are amber notes, oud, musk and tonka bean.
Pour Homme gives you a pretty straightforward clean citrus smell and is very pleasing. It isn't super long lasting (around 5 hours) but that is usually adequate enough for most daily purposes.
Bvlgari Man In Black
Bvlgari Man In Black by Bvlgari is a Amber Floral fragrance for men. … It lasts a very long time and smells like shaving cream/leather/powder, cinnamon.
Calvin Klein CK One
CK one is a unisex perfume for those who embrace diversity. Instantly memorable, this citrus green scent pairs green tea with rose and amber for a youthful and fresh, clean scent and definitely unisex fragrance.
The long list below gives you a more detailed overview of additional men's fragrances that are guaranteed to last long (provided your skin is moisturized enough)
Long lasting perfumes for men
OMBRE LEATHER BY TOM FORD
A little will go a long way, so dab sparingly and enjoy the fragrance unfold from day to night.
1 MILLION BY PACO RABANNE:
This is a long lasting perfume for men who like to standout for all the right reasons.
SAUVAGE ELIXIR BY DIOR:
This is an iconic eau de cologne. Top notes are Cinnamon, Nutmeg, Cardamom and Grapefruit; middle note is Lavender; base notes are Licorice, Sandalwood, Amber, Patchouli and Haitian Vetiver.
TERRE D'HERMÈS BY HERMÈS
The signature scent has a blend of earthy, woody notes that hold their own hour after hour
BOSS BOTTLED BY HUGO BOSS
Top notes are Apple, Plum, Lemon, Bergamot, Oakmoss and Geranium; middle notes are Cinnamon, Mahogany and Carnation; base notes are Vanilla, Sandalwood, Cedar, Vetiver and Olive Tree.
LE MALE LE PARFUM BY JEAN PAUL GAULTIER
This is a bold fragrance with a signature bottle. Top note is Cardamom; middle notes are Lavender and iris; base notes are Vanilla, Oriental notes and Woodsy Notes.
BLEU NOIR EXTRÊME BY NARCISO RODRIGUEZ
Top notes are Citruses, Ice, Basil and Green Mandarin; middle note is Musk; base notes are Citruses, Ebony and Cedar.
PHANTOM BY PACO RABANNE pour homme
This is a new fragrance created in 2021 with an extremely futuristic bottle. Top notes are Lavender, Lemon Zest and Amalfi Lemon; heart notes are Lavender, Apple, Smoke, Earthy Notes and Patchouli; base notes are Vanilla, Lavender and Vetiver.
ONLY THE BRAVE TATTOO BY DIESEL
Top notes are Red Apple and Mandarin Orange; middle notes are Pepper and Sage; base notes are Tobacco, Benzoin, Patchouli and Woodsy Notes.
Atlantis
A citrus & woody aromatic scent for man.
Notes of bergamot, clary sage, and patchouli.
Creed Aventus
Top notes are Pineapple, Bergamot, Black Currant and Apple; middle notes are Birch, Patchouli, Moroccan Jasmine and Rose; base notes are Musk, oak moss, Ambergris and Vanille
Dunhill Icon
Top notes are Neroli, Bergamot, Black Pepper and Petitgrain; middle notes are Black Pepper, Lavender, Cardamom, Juniper Berries and Sage; base notes are Vetiver, Oakmoss, iris, Agarwood (Oud) and Leather.
Where can I find long lasting perfumes online?
Noon and Amazon are the largest online retailers in the Gulf States and they offer you a wide choice of classic fragrances as well as the best men's fragrances mentioned above.
Even though the prices are very attractive, we strongly recommend to check out the Noon coupons at Almowafir that are guaranteed to give you additional discounts on your purchase.
Amazon constantly offers deals but to maximize your purchase, check out the Amazon coupons at Almowafir and make the most profitable deal.