The classic straight hair has always been many women's favorite hair style. Styling heat tools, such as hair irons can help any woman achieve their desired style. At the same time, many women question their safety and try to avoid them since they don't know the answers to all their questions.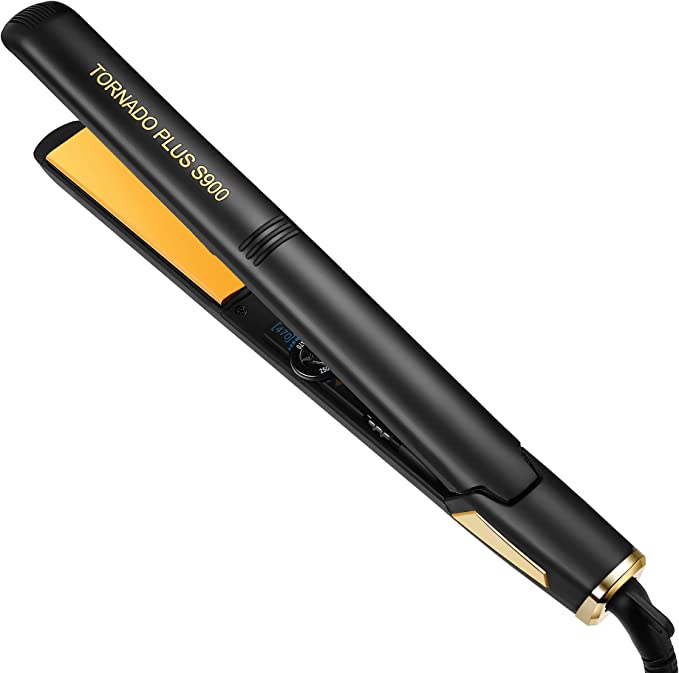 Here are some of the main benefits of these hair tools:
frizz reduction
Cuticles sealing
Versatility: contributes on the creation of beautiful and different hairstyles
Helps to maximize and intensify some hair treatments, for example Brazilian blowouts
Heat exposure can also cause a series of negative effects on hair such as:
Rough texture
Opacity and dryness
Elastic texture
Hair fiber damage
Split ends
To make sure you use the best tools possible on your hair, we highly recommend investing in the best hair irons that have either technologies or materials that are simply less damaging. A general rule of thumb would be to choose ceramic plates as this material heats more evenly and is therefore less aggressive for hair. Always choose irons with adjustable temperature to make sure you won't burn your locks.
Ceramic plates are best for swapping between straight and curly styles.
Ladies with kinkier coils or hair that's harder to straighten will benefit from titanium plates
In the article below, we will review some of the best manufacturers worldwide and their main products.
We will also indicate where you can buy them in the UAE and how you can get coupons and discount codes to get the best purchase.
Babyliss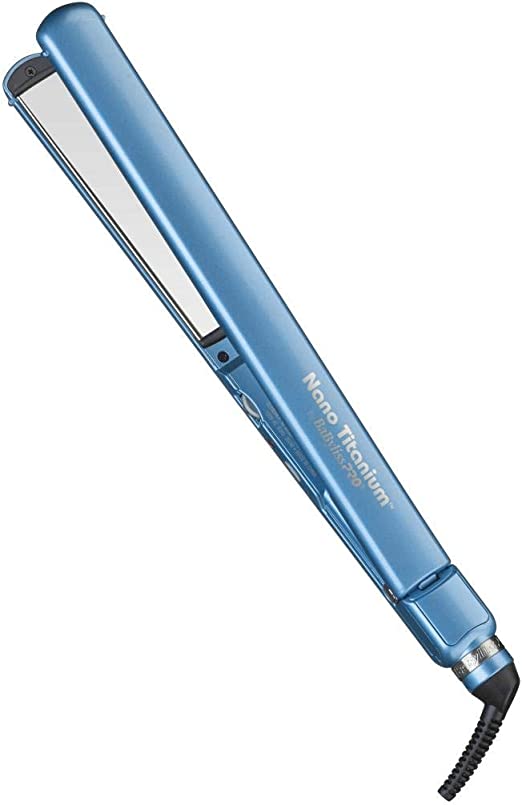 BaByliss hair straighteners come with impressive features.
For Short And Medium Hair: we recommend the BaBylissPRO Nano Titanium-Plated Ultra-Thin Straightening Iron
This hair iron has titanium plates and allows you to get ready in a few minutes The slim and lightweight design of the straightener makes it easy to handle.
This product is available at Amazon UAE at AED793.05 and has free shipping.
If you would like to make a better deal, check out the Almowafir coupons for Amazon.
https://almowafir.com/en/store/amazon/
Throughout November, you can save at least 40% on your next purchase.
If you are looking for a travel friendly tool, we recommend choosing the BaBylissPRO Nano Titanium Mini Straightening Iron. It will fit into your bag and will allow you to straighten and style your hair on-the-go.
If you have thick hair, you should pick the Babyliss Procelain Ceramic Straightening.
The Porcelain Ceramic technology in the straightening irons enables even distribution across the plates and generates far-infrared heat, a more efficient heating method which is gentler to hair.
If you have hair that tends to be very frizzy, we recommend the BabylissPRO Nano Titanium ¼" Titanium-Plated Straightening Iron
This is a top-notch product with a sophisticated ion technology and extra-long plates to help straighten hair faster while delivering exceptional shine.
For thick air, choose the BaBylissPRO Porcelain Ceramic Straightening Iron (with comb teeth)
This innovative tool features a 1.5-inch-wide plate with integrated comb teeth, and with far-infrared heat to penetrate to the hair shaft, giving you frizz-free curls.
Best Floating Plate Design: BaBylissPRO Ceramic Tools Straightening Iron
This is an extremely innovative tool ideal for use on all hair types. It has floating ceramic plates to ensure even heat distribution and it is combined with negative ions to maintain the hair smoothness and shine. Another advantage is its versatility allowing you to create many styles included the beachy waves.
BaBylissPRO Nano Titanium Digital Straightener
This tool is like the previous tools we reviewed but it has additional, useful features such as:
Digital temperature adjustment for precise control allowing you to view the desired temperature at a glance
Instant heat up to 450 DegreeF
Memory function saves preferred heat settings
Best For Straightening And Curling: BaBylissPRO Nano Titanium Prima
Curl & straighten hair with the dual use BaBylissPRO Nano Titanium Prima 3000 featuring IonMultiplier Technology & titanium plates for efficient heat transfer that smoothes, conditions & shines.
This iron will blow your mind thanks to its innovative features and versatility.
This flat iron heats up instantly & holds a consistent temperature while millions of ions deliver shiny hair.
Perfect for all hair types, use the Prima to straighten and smooth OR to create loose beachy waves.
 BaBylissPRO Ceramix Xtreme Straightening Iron
It features ceramic plates for even heat distribution and has the far-infrared heat technology to gently straighten the hair from inside out.
Like the previous we reviewed, it has the ceramic plate technology deliver even heat distribution without hot spots coupled with negative ions to leave locks smooth & shiny.
It can also be used to create loose, beachy waves.
Ceramic plate technology
25 heat settings up to 450 degree F
Dual voltage for worldwide use
Remington
This is also a top-notch brand manufacturing tools with consumer satisfaction in mind. Remington recently launched The Shine Therapy™ flat irons, curling wands, straightening brush and hair setters. All of these products have ceramic coating infused with antioxidant-rich Argan oil and protein-rich Keratin, so you can create new styles and rejuvenate your hair.

One of their popular tools is the Remington iron 8500. Its features include:
The Moroccan Oil Shine Therapy Advanced Ceramic Straightener
Advanced Ceramic coated plates infused with Moroccan Argan Oil
Digital temperature display with 9 settings 150 – 230 degrees (very useful to visualize the temperature right away)
Fast heat up in 15 seconds. Auto shut off after 60 minutes
Floating plates for even pressure on the hair
This hair iron is available currently at Amazon UAE for AED117.56 (it has a huge discount of 71%)
Some of Remington's irons have unique features and technologies and they are worth giving a try if you are looking for these features.
For example, the S5500 has a specific technology that helps to eliminate frizz and flyaways.
The S9500PP Pearl Pro is another top contender in the flat iron market. One of the most amazing features of this tool is its pearl ceramic technology. The ceramic plates of this tool are infused with real pearls to avoid frizz and keep your hair healthy.
The Remington S7330A Wet2Straight is one of the best irons for people who have long and thick hair because of its large plate size. You can use it either on wet or dry hair which saves you a lot of time in the drying and styling process.
Rebune curling irons
Rebune Group is a Chinese company manufacturing a wide range of appliances including hair styling tools.
One of Rebune's most popular and innovative product is the REBUNE 1200W Hair Dryer Brush 3 In 1 Hair Straighteners & Hair Curler Styling Hot Air Styler With 2 Brushes
It is extremely convenient because:
It saves time drying and styling your hair
The ceramic coating protects your hair from over-styling with even heat distribution and the negative ion technology maintains the hair shiny and healthy
The ergonomic design makes it easy and fun to hold the brush
One-key operation Settings
Safe to use and reliable
This tool is currently available at Amazon UAE for AED149.00
Tornado Hair Straightener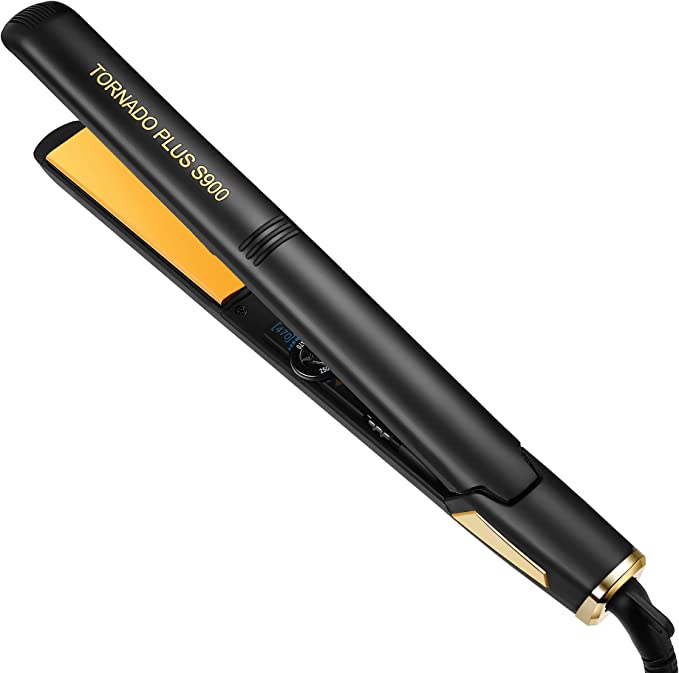 This is a Hair Styling Tool for straightening or curling hair with some unique features such as a fast-heating process, 6 temperature settings and it is suitable for travel thanks to its dual voltage making it suitable for the voltage requirements of most countries in the world.
This tool is currently available at Amazon UAE for AED179.99
Another exceptional product is the CHI Expert Classic Tourmaline Ceramic Flat Iron
Its price tag is quite high (AED305.00 on Amazon UAE) but it is a sophisticated product producing an exceptionally high amount of negative ions, and Far Infrared, which reduces static electricity and guarantees a perfect style. This is a versatile iron that you can use to curl, wave or spiral your hair and create an endless number of styles.