Almowafir has Brands For Less Coupon Codes, Brands For Less Discount Code & Brands For Less Promo Code
Brands For Less UAE is an amazing online store for shopping luxury fashion from various international designers and leading international brands at lower prices. Brands for Less Dubai offers many designs and huge collections of fashions that include clothes,… Read more about Brands For Less coupons
Still Looking?
Here are some offers you might like
Brands For Less Promo Codes & Deals
Brands For Less Coupon Stats
Used today: 3
Total offers: 4
Coupon codes: 4
Best discount: Up To 5% OFF

Almowafir has Brands For Less Coupon Codes, Brands For Less Discount Code & Brands For Less Promo Code
Brands For Less UAE is an amazing online store for shopping luxury fashion from various international designers and leading international brands at lower prices. Brands for Less Dubai offers many designs and huge collections of fashions that include clothes, accessories and shoes for the whole family. You will find many designs and creations to get all looks. You will find brands like Ralph Lauren, Calvin Klein, Tommy Hilfiger, JS, Mango, Michael Kors, Nautica, Kenneth Cole, Disney, Adidas, Reebok, Nike, and many more. In addition you can buy your favorite clothes from your favorite luxury brands with up to 80% discounts on the most popular designs. Use your Brands For Less coupon code, Brands For Less discount code & Brands For Less promo code to save money on every purchase.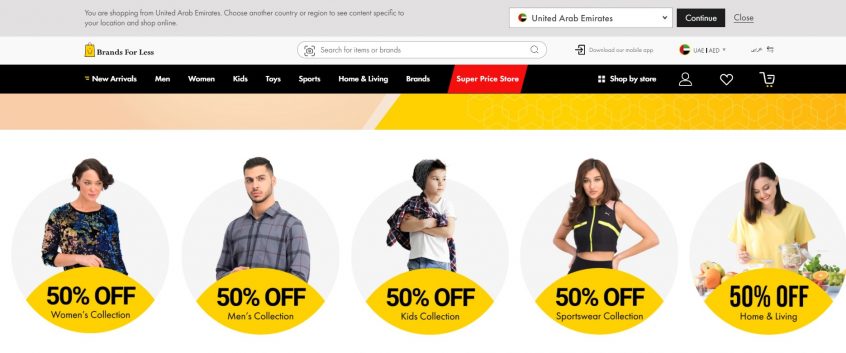 How to use your Brands For Less coupon codes, Brands For Less discount code & Brands For Less promo code?
Discover your favorite stores from hundreds on Almowafir
Choose from the coupons & discounts displayed
Select 'Get Code', 'Copy' then click over to the Brands For Less site
Once you've added products to your ?Shopping Cart, be sure to 'Paste' your code and check the discount before you pay!
Stores like Brands For Less Dubai & Brands For Less UAE at Almowafir:
FAQs – Brands For Less Dubai & Brands For Less UAE on Almowafir
Q: How do I get the best Brands for Brands For Less coupon codes to save money?
A: Visit Almowafir to discover the latest Brands For Less voucher for fashion, accessories and shoes from the most famous brands and international designers.
Q: My Brands for Less coupon does not work. What should I do?
A: Make sure to check the terms and conditions of the Brands for Less offers and coupons and their validity period in their cards at Almowafir website. If you are still having trouble using the Brands For Less coupons, contact Brands For Less customer service.
Colors coordinating guide for buyers to shop at Brands For Less UAE & Brands For Less Dubai
Brands For Less Dubai & Brands For Less UAE have a massive collection of colors from many brands. It is important to know the colors that complement each other to look harmonious and beautiful when you look at it look, and people need to understand how to coordinate colors; because it is involved in various fields of life such as drawing, photography, graphic design, choosing home wall colors and even coordinating daily clothes and make-up. Use your Brands For Less coupon codes to save money.
Understanding the color wheel before you shop any fashion
Color wheel is one of the first methods that help you to coordinate colors, so it is advisable to understand how it works very well. Color well was developed after following the process of refraction of light into the rainbow colors in a prism, then they those colors were arranged in a circle, and at the beginning the wheel helped painters to choose harmonious groups of colors for their paintings then it developed over time to contain all shades of colors and overlaps.
Basics colors of the color wheel
The color wheel consists of three primary colors, which are red, blue, and yellow it was named so because you can not get it from mixing any other colors, it also contains three secondary colors, which are purple, green, and orange, which can be obtained through the primary colors and mixed together. The primary and secondary colors can be mixed together to obtain six new colors that make up the third wheel. Get the latest Brands For Less coupons to save money on every purchase.
How to coordinate my clothing with the complementary colors rules?
Understanding the color wheel helps to choose colors that complement each other and use them together, as these colors appear very consistent, and the complementary color of one of the colors can be obtained by looking at what corresponds to it on the wheel, for example yellow meets purple, red corresponds to green, and so on. The complementary colors look well together and brighten each other by simply placing them close together.
Analogous colors to coordinate fashion
The Analogous colors can be used on the wheel in various color formats; this is because they look beautiful and harmonious together as a result of their ability to merge well with each other, for example yellow and orange blend beautifully; because they are close together on the colors wheel, which produces a yellowish-orange color in the middle, and the blue color blends beautifully with the purple; also close to each other when trying to coordinate colors.
Monochrome colors
Monochrome means the colors that are from the same category, for example colored colors together, earthy colors together, and so on. Make sure to mix textures in your monochrome outfit. You want to add visual interest, depth and dimension to your look so it isn't one-dimensional or boring. With the first gray monochrome costume, the gray skirt was the point of interest. The shiny texture brought this gray outfit to a whole new level. The fur added the softness. Some fabric combinations that you can try together are leather, denim, chiffon, cotton, suede, silk, wool, and sequins. Your Brands For Less coupon codes are easy to use.
Neutral colors
Choosing white or black clothes when you do not have a lot of options or you prefer to get a simple, or any other neutral colors, such as: indigo, khaki, gray, blue, gold, silver, and others, as these colors can be combined together, but white and black are the best together. Your Brands For Less coupon codes is easy to use.
How can I shop casual elegant dress guide for women at Brands For Less using my Brands For Less codes?
Dress rules are tough while we've all heard about smart casual wear before, the term still causes confusion and panic for many. Thankfully, we're here to help by shedding some much-needed tips, info and lights on this mysterious look. So, if you have been wondering what smart casual clothing means or if you are looking for some smart fashion ideas, we will give this ultimate guide for smart casual dress for women.
What are Brands For Less smart women casual looks?
Smart casual is a somewhat vague dress style that calls for polished comfortable clothing. As such, nailing the perfect look requires balance. When dressing appropriately with this outfit, try to pick pieces that look stylish and at the same time it should be comfortable. With the Brands For Less coupon codes & Brands For Less voucher you will save your bucks always.
Brands For Less smart casual versus business casual
Due to its refined and comfortable beauty, smart casual clothing is often confused with a business casual dress code. While many groups can fall into the two categories, there are differences between it.
Business casual tend to demand a more conservative style of clothing while the smart casual model can be more contemporary.
When do you wear Brands For Less smart casual clothes?
Smart casual wear is a standard dress code, and as such, they are in demand for many events, including dinners, weddings, business and more. Save more using your Brands For Less coupons.
Fortunately, the type of occasion can help us to guide you what to wear. So, when planning your smart casual attire, remember to keep function, location, and other people in mind. 
Brands For Less smart casual attire for dinner
Have you received an invitation to dinner and you are required to dress in smart casual or formal clothes? Do not worry we will give you tips and Brands For Less coupon codes & Brands For Less promo code to help you to achieve your goals.
There are many wonderful, beautiful and elegant clothes that you can wear that suit you to look great. To get an elegant, perfect and attractive look, you only need to mix classic clothes such as black pants with modern clothes in addition to some classic accessories that will help you to get a casual, formal and modern look at the same time.
Smart casual wedding wear looks to shop at Brands For Less
Wearing casual wedding clothes can be difficult because you do not want to appear tricky as you don't want to appear over or under dressed, and at the same time you want elegance and attractiveness in a formal and modern way.
To nan your look, try choosing an elegant dress with a relaxed fit then pair it with low-heeled shoes and casual accessories. A nice and elegant jumpsuit or pants and a shirt can be an excellent choice for a beautiful wedding look.
Elegant casual office wear at Brands For Less
In today's world, more and more offices are choosing a stylish system of casual dress. In contrast to the business casual dress code, smart casual wear is more versatile. While you still need to look professional, there is no reason not to spice up your look. To do this, consider swapping out your regular pants for a skirt or opting for a chic suit. Instead, try to wear simple clothes and add bright colors with accessories.
Brands For Less smart daily casual looks
Whether you're having afternoon tea with friends or having an informal meeting with a client, it's easy to create an elegant and casual look throughout the day. Unlike more formal events such as weddings or dinners, general daytime events offer flexibility in outfits. So everything ranges from pants and a chic blouse to a midi skirt and sweater will work perfectly to get the look that you want.
Smart casual Outfits to shop with your Brands For Less discount code, Brands For Less coupons & Brands For Less promo code
When it comes to smart casual clothes, you need a one-piece look in order to get an elegant, modern, classic and beautiful look suitable for the occasion you want to go to. To get this look all you have to do is follow some simple tips and rules.
Elegant Brands For Less casual dress
If you want to wear a dress for a lovely casual event, then you definitely need to choose a suitable dress for your occasion. To do this, choose a polished dress, such as a shirt or wrap dress, in a neutral color, such as black, gray or white. It is preferred that a cut doesn't show too much of your legs and chest. To wear a long dress try to shop a sophisticated design.
Stylish casual jeans to shop at Brands For Less UAE & Brands For Less Dubai at lower prices
While tailored pants are a natural choice for many people to get a smart casual look, there is no doubt that jeans can also be worn as a type of smart casual wear. However, taking these casual pants to a higher level requires choosing a polished pair and coordinating it with appropriate clothing and accessories.
To do so, start by choosing a pair of slim or skinny jeans in a dark color such as black, navy, gray or indigo. Also, make sure that your jeans are not ripped or frayed.
Pair your jeans with a stylish shirt, jacket, blazer and heels to complete your look. Brands for Less offers many jeans designs to get all the looks that you want, as well as the fact that Brands for Less jeans are one of the best international brands designed to keep you up with fashion.
Smart casual tops
Looking for a trendy modern style, or something a little less trendy, the modern wardrobe must be in tune with your personal tastes. A classic style for fall can be a dream come true, so think of style and styling tips to help you get the job done as well. Look no further than the classic dress for fall.
But what about a mix between classic and modern, past and future by having a nice, lovely and elegant Smart Casual look. Casual and stylish clothes are not hard to come by, but we think shopping which ones to add to your wardrobe can be difficult. Brands for Less have whatever you want from the best brands in the world at competitive prices using the Brands For Less coupon codes.
Smart casual shorts
Pants and skirts aren't your only options for smart casual bottoms. Shorts also make an excellent choice for this style. For sure we are not talking about your usual linen shorts here.
No, rocking a smart casual look with shorts requires a certain level of polish that only a pair of tailored shorts can give. Pairing shoes with shorts is all you need to get to know how to look confident in your dress code and avoid missing out on an opportunity to impress your friends, your partners and people around you.
Jackets that are both smart and casual
A stylish jacket can easily turn a casual outfit into a smart casual one. A regular blazer can be a great option. It isn't, It isn't the only choice, though. Longline and sleeveless blazers are stylish alternatives to the classic. A bomber jacket can even be worn by those who like to try something new, just make sure it looks well.
You can wear the blazer with the traditional white shirt in different styles that can give you a great look, it will be suitable for you, whether the blazer is printed, plain or in bright colors. Then you can have a smart casual look with the rest of the pieces. Brands For Less has a huge Jackets collection from the most popular brands in the world to shop at competitive prices using your Brands For Less coupons & Brands For Less voucher. 
Brands For Less bags for a smart casual look
The importance of accessories in the look cannot be overstated. So, don't forget to accessorize your smart casual ensemble with the appropriate boot. Simply pick a theme that complements the sleek and trendy ensemble when selecting a handbag. This can be a small purse, a bucket pack, a body bag, a tote bag, or something else entirely. Try leaving overly organized office bags and casual backpacks at home.
Is the shoes important for a Brands For Less smart casual look?
When it comes to getting ready, the shoes are extremely important. As a result, picking the right pair is critical for a smart casual look. Choose fashionable and practical shoes to ensure that your style is refined without being too formal. For this type of wear, high boots, flat heels, mules, and slippers are all excellent choices.
How to dress appropriately for work and job interviews?
Working in the office means meetings, as well as before getting a job, you need to attend interviews, and there is no doubt that choosing a suitable outfit is the first thing that comes to your mind.
Do not worry, it is not difficult. We recommend that you first know the color of your skin and what suits it, then think about the season in which you are and what suits it and in the end determine the look that you want or need for this occasion. Striking a balance between elegance and a professional look can be a little overwhelming, but with a little reading, a little help, and a lot of discounts, you'll get what you want.
Business attire to shop with my Brands For Less discount code, Brands For Less coupon codes & Brands For Less promo code for interviews
Getting a good job with a good salary is everyone's dream, so when you get the opportunity, we all know that you must prepare yourself as best as possible, therefore your choice of appropriate clothes is tantamount to qualifying for the second round of the championship because the first thing that the person who meets you sees is your external appearance and your clothes It gives the brain the first impression of the person, so be smart about your choice.
For a conservative look, try a tight navy suit with a white shirt and heels. Don't forget the importance of accessories. Simple and beautiful accessories that combine modernity and classic with a simple black handbag that will suffice. Do not forget that you can design the appropriate look according to the type of work and office you are applying to.
Cocktail business look
Cocktail workwear is often required for after-hours business events. That way, it's because we all want to look stylish and attractive but also a little conservative. To do this, try to choose a dress with a business-appropriate cut as well as a small figure. Puff sleeves, a unique pattern, or a jeweled neckline will do the trick.
Then finish off your look with pumps, clutches, and jewelry. If you don't want to wear a dress, you can try a thin suit instead. However, avoid wearing it with a collar shirt to ensure it shows off after work. Get the Brands For Less coupons & Brands For Less discount code to save money on every purchase.
What are the best summer looks to shop at Brands For Less UAE & Brands For Less Dubai
Choosing the appropriate clothes for work in the summer season may be difficult or a little confused because we are trying to maintain a formal look, and at the same time we need this look to be comfortable.
Yes, it is a difficult challenge, but it is not impossible. Skirts, pants and lightweight dresses are one of the most important features of summer fashion, as they add a touch of beauty and elegance, and at the same time they are practical clothes as well as being necessary to achieve a sophisticated business look throughout the summer season. Although it is not necessary to wear a blazer in your office, it is important to have it with you to attend meetings. As for shoes, many people like to wear open shoes, but it is better to stick to closed-toe patterns because they reflect a more professional and serious look.
Winter work clothes at Brands For Less
Choosing work clothes in winter is not usually difficult. Try to make simple updates to your wardrobe to beat the cold, such as buying a new jacket. The shirt collar turtleneck sweater warms while also looking elegant. It is the same for the shoes, we advise you not to wear high-heeled shoes, but replace them with warm and practical winter shoes that can have the same effect. Other ways you can stay warm while looking sophisticated include choosing heavy fabrics and investing in a stylish coat. Use your Brands For Less coupon codes & Brands For Less voucher to buy more and pay less.
Do Brands For Less has business suits for women
The best option to get a stylish, serious, attractive, modern and classic look is to choose a suit, whether this suit is a skirt or a hero, will be wonderful and very beautiful. It is better for you to keep the look simple and wear neutral colors and a regular fabric such as cotton. It is preferable for accessories to be simple. Then you have to choose a suitable shirt for work and some court shoes, and you will get the desired look.
Work dresses to shop with your Brands For Less coupons, Brands For Less discount code & Brands For Less promo code
To choose a good dress for work, we need good advice, so in the beginning the dress should not be too tight and be of medium length extending to almost the knees. And do not forget that conservative looks are important in business dresses, so these dresses should not be overly revealing. Dresses with long and short sleeves are appropriate for work and office environments, and sleeveless dresses can be worn with a jacket underneath or a shirt over it.