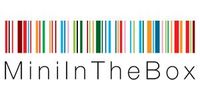 Show details
Hide details
›
MiniInTheBox Promo Codes & Deals


Almowafir Has MiniintheBox Coupon Code, MiniintheBox Promo Codes & MiniintheBox Deals
MiniInTheBox is a comprehensive global online store, offering customers from all over the world hundreds of thousands of products with massive collections and categories. In addition to a huge supply that is updated daily with more than 1,000 products and is available to all shoppers from all over the world. Discover the most active powerful MiniintheBox coupon code, MiniintheBox promo codes & MiniintheBox deals to shop whatever you want at competitive prices. MiniintheBox provides free shipping and delivery service to all parts of the world, including the Gulf countries and the Arab world as well as MiniintheBox is available in Arabic and many other languages. MiniintheBox has a flexible and convenient return policy, with safe and modern payment options that include payment using credit cards and PayPal and more.

How to use your MiniintheBox coupon code, MiniintheBox promo codes & MiniintheBox deals?
Visit Almowafir and find the MiniintheBox page.
Check all the MiniintheBox discount codes then copy the desired MiniintheBox promo code
Click on " Get the Deal / Coupon " and start adding the desired products & items to your cart
At the checkout page look for " Add promo code" and click on apply to activate your discount
Stores like MiniintheBox on Almowafir
FAQs – MiniintheBox on Almowafir
Q: How do I get the best MiniintheBox coupon code?
A: Visit Almowafir website to discover the latest MiniintheBox promo codes & MiniintheBox deals on all your favorite products from various consumer and entertainment categories such as fashion, electronics, gadgets, home décor products, games and many more.
Q: My MiniintheBox coupon is not working. What should I do?
A: Check the terms and conditions of the MiniintheBox offers and coupons and their validity period within their cards on Almowafir. If you still have trouble using MiniintheBox coupons, contact MiniInTheBox customer service.