Bath and Body Works UAE is the preferred retail destination for fresh and fun fragrances for body & home products. You can choose from a large variety of body washes, body creams, shower gels, body scrubs, and hair care items
Bath and body works
Bath & Body Works was founded in 1990 in the US. The company's first store opened in a Massachusetts mall in September 1990. In 1997, the company launched a secondary brand called Bath & Body Works at Home and then 2 years later another brand- the White Barn Candle Company, which specializes in the sale of scented candles.
Bath & Body Works has since expanded across 6 continents including the Middle East.
The strategy
From the beginning onwards, the shops were designed to have a home feel. They were always very colorful and were supposed to evoke rural America by showcasing large photos of piled fruit and displaying bath products in old barrels. Innovation was a priority to establish a strong presence and get market shares. Around 30% of the products are new each season to try and attract new customers or to maintain the existing customer base.
Bath and body works' expansion was also very much focused on a vast number of fruit based shower gels, body washes and lotions with amazing fragrances (the products smell so good that customers want to eat them) and exciting names like Country Apple and Peach Nectar
The retailer then expanded in skincare and hair products (to maintain the growth) and it is currently looking to try and capitalize on the momentum that has carried it through the Covid-19 pandemic, a crisis that helped drive sales of its soaps and hand sanitizers.
Sales for its portfolio of nourishing soaps, body lotions and candles have been rising every year for almost a decade, and with an extremely loyal customer base, Bath & Body Works stands apart from other beauty retailers.
The new strategy for Bath & Body Works also contemplates the option of widening the brand's assortment of organic and natural products. According to the retailer, it could develop and make its own products or collaborate with an external partner.
Best BBW products
Bath and Body Works Gingham Eau de Parfum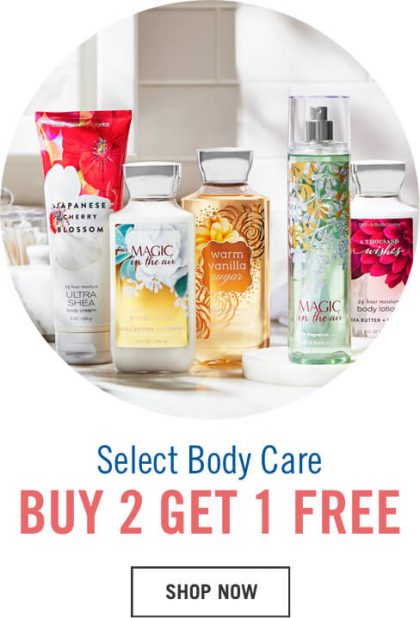 It smells irresistibly fresh with its notes of freesia, citrus, and violet.
Bath and Body Works Summer Boardwalk 3-Wick Candle
Summer snacks such as caramel popcorn, taffy apples, and salty-sweet cream packed in a gorgeous candle.
Bath and Body Works Coconut Lime Breeze Fine Fragrance Mist
You'll smell like a fruity drink thanks to this Fragrance Mist.
Bath and Body Works Hibiscus Ylang Ylang Body Wash & Foam Bath
This soothing Body Wash will immediately give you a feeling of calmness.
Bath and Body Works Water Hyaluronic Acid Sleeping Face Mask
Treat your skin to an overnight mask that will leave your skin feeling plump with moisture.
Bath and Body Works Fine Fragrance Japanese Cherry Blossom
This bottle lasts for ages and the fragrance is lovely.
Bath and Body Works White Barn Mahogany Teakwood High Intensity Three-Wick Candle
This candle has a sexy masculine fragrance.
Bath and Body Works One in a Million Ultra Shea Body Cream
One of the most popular body cream and the smell will linger on your skin for hours.
Bath and Body Works Warm Vanilla Sugar Super Smooth Body Lotion
The Warm Vanilla Sugar Super Smooth Body Lotion features three different vanillas, tonka bean, and florals for a warm and sexy scent.
Bath and Body Works Sweet Pea Pocketbac Hand Sanitizer 5-Pack
The hands feel clean with a light scent of Sweet Pea.
Bath and Body Works Honeysuckle & Freesia 3-Wick Candle
Spring smell packed in a candle
Bath and Body Works Fiji White Sands Gentle Foaming Hand Soap
Vacation in a bottle.
Bath and Body Works promo code
Ready to order on the Bath and Body Works online store? Make sure you check the Bath and Body Works promo code on Almowafir. Almowafir is your one stop shop for promo codes and exclusive codes when you shop online. Almowafir's objective is to find, negotiate, & deliver to you the best promo codes. Almowafir strives to give you the best online shopping experience and the most amazing discounts.
Bath & Body Works UAE provides customers a wide range of payment options (Cash on delivery, Credit card or Debit Card). Enjoy free shipping on orders above AED 99.
HOW MANY PROMO CODES CAN I REDEEM ON MY ORDER?
In addition to the majority of offers & promotions that do not require a code, Bath & Body Works allows you to redeem one promo code per order.
If more than one discount code is entered at checkout, only the last code entered will be applied.
To take advantage of more discount codes, we recommend placing a second order. Customer Care Associates are not able to add more promo codes to your order due to system limitations.
Body lotions
Body lotion is an important part of our daily routine to keep our skin moisturized. They come with great fragrances (fruits, florals or baked goods) and give you a boost of happiness immediately.
Shower gels
Bath and Body Works shower gels are light, silky and super moisturizing,
What you'll love even more: THE FRAGRANCE. There is a fragrance for everyone.
Body mist
The body mists are the best way to keep your favorite scent going all day, every day.
Hand sanitizers
Bath & Body Works hand sanitizers are formulated with 62 to 80 percent ethyl alcohol in compliance with FDA requirements.
Car fragrances
The car fragrance refills and holders, allow you take your favorite fragrances with you.
Scented candles and Home fragrances
Wallflowers refills and plugs will give you 30 days of enjoyable fragrance.
Men's body care
Bath and Body Works have everything for men's skincare and hygiene routine: deodorants body sprays or other essentials such face and body wash, hand soaps, moisturizers.