In today's era, you have many choices when it comes to luxury watch brands and models, but one of the few that is considered the best and most popular is Hublot. This Swiss luxury watchmaker was founded in 1980 by Italian businessman Carlo Crocco, who was the scion of the Italian Binda Group, a well-known corporate group founded in 1906. Today, Hublot is being operated as a wholly-owned subsidiary of LVMH, which is a company founded through the merger of Louis Vuitton, Hennessy, Moët & Chandon in 1987.
Hublot is particularly known currently as one of the best companies to get watches for men. Despite having a relatively long history, Hublot doesn't particularly stick to their classics; instead, they would often try to innovate when it comes to feature and design. You can get various models of Hublot watches in retailers or online shops, where you can redeem a Sivvi code or discount coupon to reduce the price of the watch you will be buying. If you don't know what Hublot watch to buy yet, here is a list of the best Hublot watches if you are planning to buy one in 2022.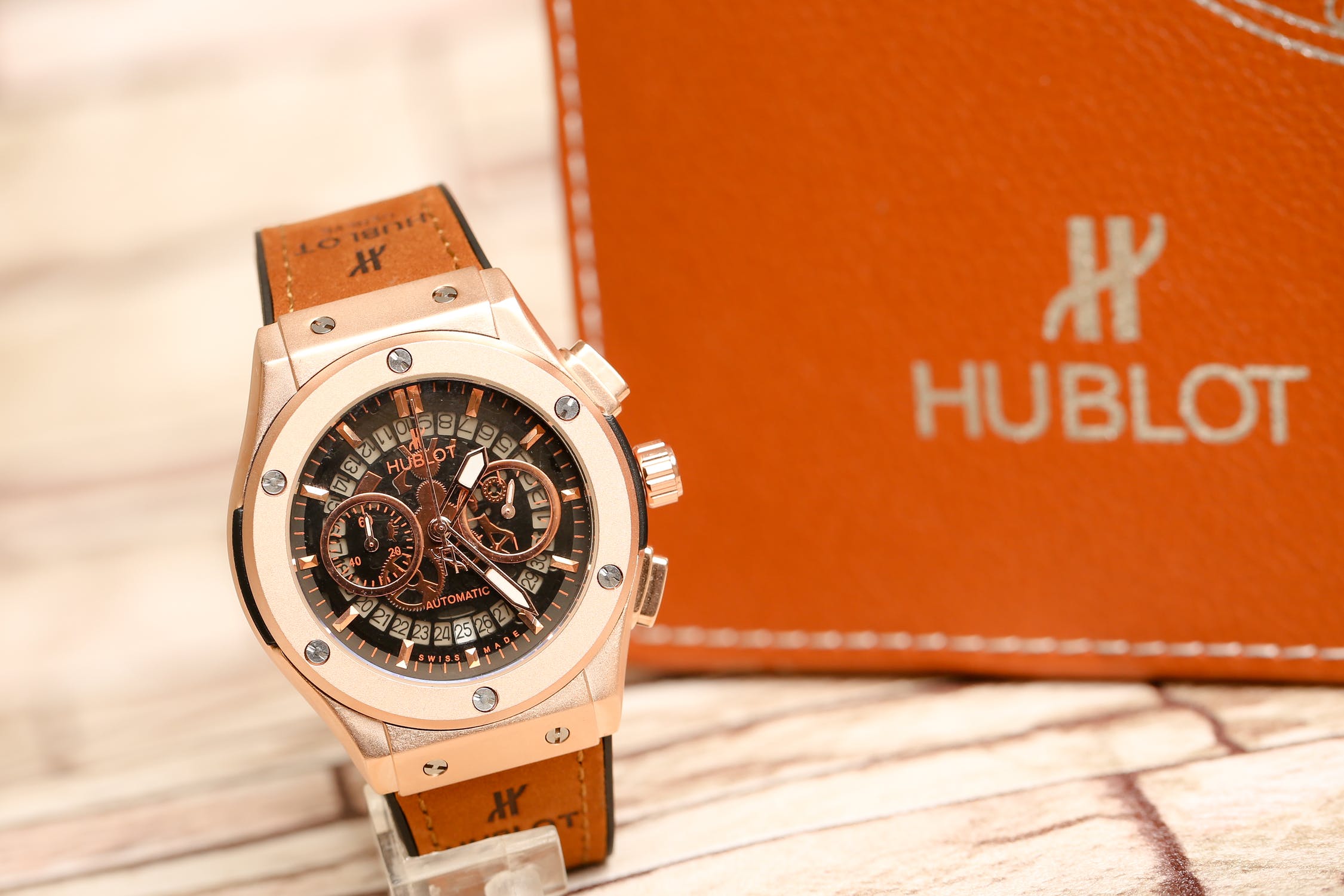 Hublot Spirit of Big Bang Gold Crystal
One of the finest watches that Hublot has ever produced is the Spirit of Big Bang Gold Crystal, which uses the familiar square bezel design of the Spirit of Big Bang Model but ups its elegance by adding 24-carat gold in its polished black dial.
In order to emphasize the beauty of melted gold inside the dial, the overall color of the watch, from its bezel to its straps, is done in black. Most of the materials used to make this watch are satin-finished and polished ceramic to give it a little bit of durability against scratches or aging.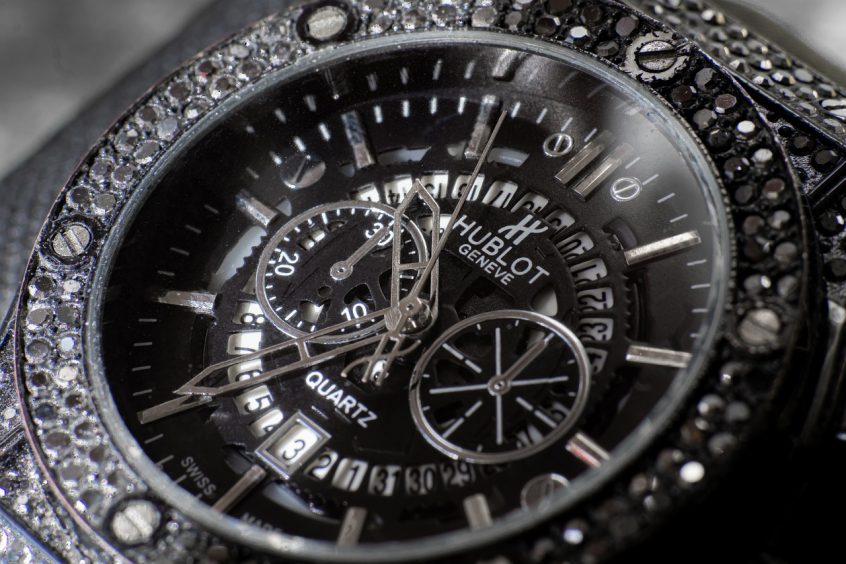 Hublot Outstanding Classic Fusion Orlinski
If you want something a little bit more lowkey or less elegant than the Spirit of Big Bang, then you should get the Hublot Outstanding Classic Fusion Orlinski, a watch that combines the classic look of a standard watch with the signature sculpting of well-known sculptor Richard Orlinski.
Intended to be an artwork worn on the wrist, the Outstanding Classic Fusion features ceramic bezels, straps, and dials to further emphasize the watch's sculpture-like design. The Outstanding Classic Fusion Orlinski comes in two colors, which are bright blue and black.
Hublot Big Bang Unico Berluti Aluminio
Another collaboration watch that Hublot produces and sells is the Big Bang Unico Berluti Aluminio, which is made in partnership with renowned leather maker Unico Berluti. This watch features satin-finished and polished titanium, which is a little bit heavier than ceramic but is more durable and scratch-proof.
For the watch's strap, it features black rubber and genuine Berluti Venezia leather, which will feel much more comfortable on your wrist. Each Big Bang Unico Berluti Aluminio watch comes with a leather shoe horn, which is usually utilized to safely and comfortably slide your foot inside shoes. So, the shoehorn is perfect to have if you have leather shoes that are made by Berluti. Use a Sivvi promo code or voucher so that you can get discounts for Hublot watches like the Big Bang Unico Berluti Aluminio.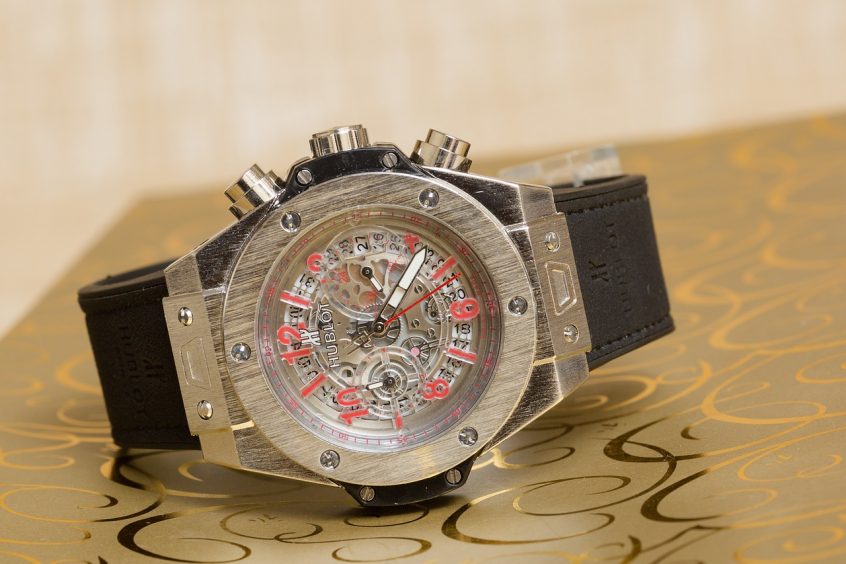 Hublot Big Bang MP-11 Sapphire
The most unique watch on this list is the Hublot Big Bang MP-11 Sapphire. The model "MP-11" itself is already unique within the Hublot lineup of current watches, as it features the MP-11 movement that has seven barrels that are very apparent when you look at the lower part of the watch's dial. These barrels are responsible for moving the hour/minute display, so they are integral parts of the watch.
However, what makes this particular model more unique is its color or lack thereof, as its dial and bezel are made from synthetic sapphire that is transparent, which means that it can showcase the movement within the watch better than any other materials that Hublot uses. Despite being transparent, according to Hublot, they have researched and developed the synthetic sapphire to be more durable to protect the mechanism within the watch.
Hublot Big Bang One Click 33M
If you want a watch that is more colorful or vibrant, then the best Hublot watch for you is the Big Bang One Click 33M, which comes in two variants of dials, which are stainless steel and King Gold. The stainless steel version is most suitable for men since it features a black dial with silver bezels, while the King Gold version has a white dial with rose gold bezels, although these two versions can be worn by anyone regardless of gender.
Besides the dials, the Big Bang One Click also features interchangeable straps in different colors, like red, blue, light blue, pink, orange, and green. So, if you have multiple Big Bang One Click watches, you can mix and match the straps and dials pretty easily. You have the option of strapping on or installing either a rubber strap or a leather strap, so you can choose whichever feels more comfortable on your wrist. If you want a gift for your loved one for Valentine's or Christmas, then you can get the Big Bang One Click so that you will have matching watches but in different colors.
Hublot Big Bang Unico Yellow Magic
The next watch in the Big Bang lineup is the Big Bang Unico Yellow Magic, which is the most suitable watch for people that like the color yellow, as the watch's bezels, straps, and some parts of its dial are presented in vibrant yellow color. The case of the Big Bang Unico Yellow Magic is made from polished yellow ceramic, and its strap is made of a yellow and black structured rubber.
As it is also part of the Unico line, the Yellow Magic has a Unico 2 movement within the dial that is equipped with smaller chronographs and improved technical optimization compared to the previous Unico movement. The crystal in the dial is made from sapphire that has anti-reflective treatment so that you will be able to see the time better even if you are standing or walking under bright sunlight.
So, those are the best Hublot watches that you can buy in 2022 and beyond. Keep in mind that some of the watches that are mentioned in this list are limited edition, so you may need to get them as soon as possible before they are completely sold out.