The summer season is almost here. This means that as soon as the weather gets hotter, our desire to wear almost nothing is real – but as you already know, it is probably not the best idea – so a floaty, pretty dress (a maxi dress or a mini dress) is something highly sought after.
A huge choice of Asos summer dresses
Discover and shop the perfect summer dresses with ASOS. Shop for midi summer dresses, casual dresses, sundresses & maxi summer dresses for your essential holiday trips with ASOS.
Not all dresses are ASOS own-brand but the huge choice of dresses is impressive. It's definitely a category that ASOS excels in, and you won't find another fashion retailer with such a huge range of dress offering. When it comes to dresses, they know what they are doing
Day to night, desk to dinner, formal to chilled, city trip to beach vacation, whatever the situation or the event, ASOS selection of women's discounted dresses provides options to style yourself without the designer price tag.
ASOS summer dresses are on sale with up to 70% off : here are some of the best ASOS dresses
& Other Stories button down mini dress,
Never Fully Dressed wrap shirt mini dress
New Look button-through midi dress,
Topshop textured tiered baby doll dress
Nobody's Child Sandra sleeveless strawberry print dress
Whistles gingham check dress
AllSaints Tia halftone dress
& Other Stories flutter sleeve midi dress
Nike Essential retro t-shirt dress
4th and Reckless blazer dress
ASOS DESIGN cut out midi shirt dress
More than 11,000 Asos summer dresses are currently on sale on the website with favourite brands such as ASOS design, Adidas, TopShop, Pimkie
Whatever you decide to purchase, check out Almowafir's website for Asos code in the KSA and benefit from the latest coupons & deals at ASOS. The discount code is usually an alphanumeric code that you need to insert in a specific field of the website once you start the check out process.
Almowafir can also provide you with the most advantageous VogaCloset code (if you decide to purchase some of your clothing essentials on VogaCloset website).
VogaCloset is also a british fashion retailer focusing on cool fast fashion for the young adults who constantly need to renew their wardrobe at cheap prices.
Wardrobe Essentials 2022 checklist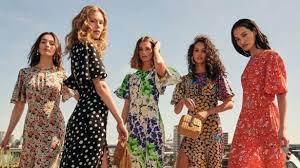 a midi skirt
a relaxed blazer
a white t-shirt
a light jacket
light summer trousers
a soft blouse
elegant flats
classic jeans (a must-have)
stylish sneakers
a goes with everything bag
a midi dress and a maxi dress
light knitwear
stylish jewelry
colorful summer sandals
a light coat
ASOS- The company
ASOS is an eCommerce retailer famous for its latest fashion and trends in menswear and womenswear. The acronym ASOS actually stands for "AsSeenOnScreen".
The company was founded in 2000 in London, and in the beginning it targeted mostly young adults (like other fast fashion e-retailers such as Shein).
It is a one stop shop for branded and own label products, including women's wear, men's wear, footwear, accessories & jewelry and beauty & skincare products.
In spite of all the obstacles in the last 20 years, the company managed to demonstrate solid growth mostly due to a visionary approach focusing on innovation including the use of social media sites such as Instagram to interact with shoppers, picture-led search and own-label beauty ranges.
From the ASOS app, customers can take or upload a photo of a garment they like, and the app finds the most similar results on ASOS' e-commerce site.
During the pandemic years, ASOS reinforced its Instagram strategy more than other famous e-commerce platforms (like Amazon and Ali Express) and maintained a fast-paced posting rhythm, and relied on content created by fans, followers and influencers.
Celebrities wearing Asos dresses and accessories
Kelly Clarkson often wears midi dresses and Gabi de Martino seems to prefer mini dresses.
Instagram influencers such as Frankie Bridge took to Instagram to share her lovely look with an amazing blue dress from Asos and Leonnie Hann proudly showed off an ASOS EDITION paillette sequin mini dress (the mini dress is currently out of stock which is a clear indication of its success).
Vanessa Hudgens embraced the sheer trend at Coachella with either a sheer skirt , a sheer mini dress or a sheer maxi dress.
ASOS Premier Delivery service in Saudi Arabia
Premier Delivery Service allows you to benefit from free Standard and Express delivery all year round with no minimum spend.
What's included in the subscription?
The subscription will only be valid on the site you purchased it on and you will not be able to use your Premier Delivery subscription for orders shipped outside of Saudi Arabia.
If you were not already aware of this, please note that orders to Saudi Arabia are subject to taxes.
Premier Delivery is for personal use only. You can order as many times as you want, but it's subject to a fair use policy – to avoid having people taking advantage of this great option.
The cost
Premier Delivery costs 200 SAR and is valid on the order you purchase it on.
Consumer habits in the Gulf Region
Even though most users in the world rely on search engines for their habits, their role in the research process the UAE, KSA and Egypt is crucial. 56% of consumers in the UAE, KSA and Egypt start their online shopping journeys using search engines and not start it on retailers' websites.
Consumers are constantly searching for products and offers online and they rely a lot on online videos when researching products and services. In the UAE and KSA, 20% of consumers watch online videos when researching products and services.
There are peaks in interest during specific shopping events such as Ramadan Sale, Black Friday, White Friday etc. Shoppers are more open to choice when researching online compared with other markets (they are less loyal to a specific brand in comparison with other markets). They tend to conduct more generic search queries. 43% of Google Search queries in the fashion segment in the UAE and KSA are generic and not brand related