What are the fashion trends we will buy in 2022?
The fashion trends in 2022 range from down to earth basics such as maxi skirts, slouchy pants, and cozy lounge wear to bold color such as orange, yellow, pink and jaw dropping accessories. The noughties and its iconic fashion moments are back. Celebrities like Dua Lipa and Bella Hadid are adopting baby tees, low rise jeans and minimalist dresses with sexy cut outs.
We have tried to summarize here some of the biggest 2022 fashion trends we are eager to start shopping.
Lounge in style
You definitely want to get a pair of relaxed trousers in your closet. This is not a new fashion trend, but this time around, pants are getting even slouchier. Pair them with a cropped tee, bodysuit, or swimwear for maximum style and comfort.
Orange is the new black
Bold colors across the spectrum are making a huge comeback as if designers wished to breathe new life into our post pandemic wardrobe. You can incorporate these trendy colors into your looks with accessories such as handbags, feminine shoes, bra tops, sweaters or already purchase summer season items such as light dresses and swimming suits.
So, what's the best way to rock the bold color trend this new year? Stick with solid hues over prints or patterns.
You can also pair multiple hues together to create a color clash and make your outfits pop up. Whether you're opting for a sporty look or for a party, bold color combinations are the way to go.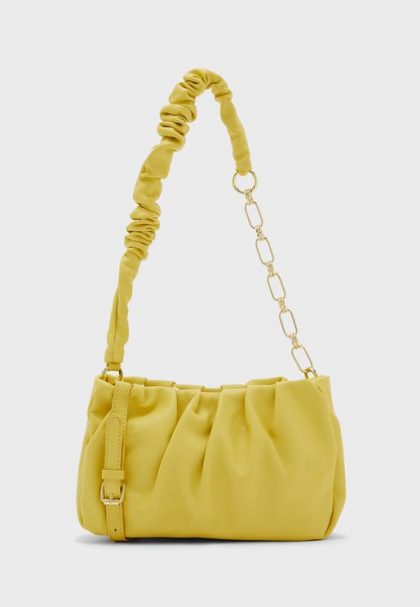 2022 fashion will include bold bright bags that indicate a dose of optimism. For example, the Proenza Schouler Spring/Summer 2022 collection is sexy, and refreshing with clean lines and bold colors. There is no shortage of color either at Bottega Veneta. Their spring summer 2022 capsule collection includes hand crocheted dresses and handbags in bright tropical shades.
Loungewear that makes us feel our best
The pandemic has changed so much our everyday lives, including how we dress. We've all come to rely upon comfortable basics while we spend more time indoors than out. We are still not quite ready to let go of our loungewear, but we will try to invest in higher quality versions of those pieces. Designers are getting in on the action, offering a range of chic and innovative looks that are just perfect for those winter days when you really want to stay inside.
Sustainable fabrics
Fashion shoppers are more and more environmentally-conscious and are looking for new fabrics that respect the environment while providing the maximum level of comfort, style and quality. Stella McCartney summer 2022 collection launched the Frayme Mylo handbag, made from mycelium leather a patented material which can be grown from fungi in trays in a matter of weeks. 2022 fashion is on its way to become more sustainable with designers such as Prada, Chanel, Carolina Herrera, Dior, Saint Laurent, embracing vegan sustainable fabrics.
Prada launched a line of bags based on Econyl (recycled nylon fibre that is regenerated from plastic trash in the ocean) in 2019. Prada plans to replace completely virgin nylon with Econyl by the end of 2021. Gucci and Burberry have also used Econyl in their articles and accessories, including the famous trench coat.
Brands are focusing on feminine silhouettes
Little skirts and jackets signal we are officially out of hiding. Bras, bra tops and bralettes dominate spring-summer 2022 fashion runways. The bold color trend is combined with a Y2k revival and tight one shoulder tops, cardigans, cardigan dresses. Cut outs create drama , sensuality and surprise.
The micro skirt
Tiny skirts such as the ones Paris Hilton used to wear in the early 2000s dominate the runaway and emerge as the main trend for 2022.
Crop tops
Remember when Britney Spears would wear crop tops of all sorts with low rise jeans? Well crop tops are one of the biggest fashion trends in 2022 with designers such as Stella McCartney reinventing the crop top. Shop crop tops at Namshi online store and use a Namshi coupon for the best deals available.
The peekaboo dress
We see a resurgence of the peekaboo silhouette with designers such as Prada, Proenza Schouler , LaQuan Smith influenced by Beyoncé's looks in 2003. Lace up sandals complete the look and add a touch of refinement and edge to this sexy silhouette.
Cargo trousers
Yes you can expect to see cargo trousers among all designers who embrace the idea of bringing back this trend on the runway. Cargo trousers are coupled with a bra or a crop top.
The little black dress
The minimalist black dress with sexy cut outs is returning to the runway courtesy of Victoria Beckham.
The power suit
Power suits transcend the office environment and move into the partywear category. Again, we combine them with bra tops for a bold fashion statement.
Bra tops are everywhere
Yes, in 2022 you can wear a bra top to work, gym, errands to a party and get away with it. Layered under power suits and paired with high-slit skirts, it's a style that's here to stay.
Maxi skirts are still in style in 2022
Maxi skirts have always been a big trend, and a true fashionista should have at least one in her wardrobe. They emphasize a romantic mood and are usually paired with wedge or flat shoes. They are perfect for a beach or city getaway.
Fashion trends 2022 according to Instagram
Instagram is predicting that maximalist fashion will rule the market. People are eager to start expressing their style with their wardrobe choices, using fashion to convey joy, optimism and self-expression. Alternative trends like goth, Dark Academia, and goblincore, will reach their peak in 2022.
Shoe trends that will take over in 2022
These shoe trends for 2022 will help you if you're looking for some shoe inspiration for this year!
Mules
Square toe boots
Ballet flats
Platform shoes and sandals
Vampy stilettos
Preppy Mary Janes