Neo hair lotion is the latest innovation (and craze) in hair treatment.
The lotion prevents hair loss and baldness and is recommended for men and women who suffer from hair loss, hair thinning and baldness. It boosts scalp circulation and scalp health and reduces dandruff build-up that can clog up hair roots. The lotion accelerates hair growth, and helps make the hair longer.
Several ingredients inside the lotion help repair the hair root and hair follicles.
Before you start using the lotion it is recommended not to use soap or shampoo, however you can use baby shampoo. The lotion usage is minimum 3 months.
What is considered normal hair loss?
There are 100,000 to 150,000 hair follicles on the scalp. Losing up to 100 hairs a day doesn't create a noticeable reduction in hair thickness. The reason for this hair loss is due to your body's natural renewal cycle. However, many people suffer from more excessive hair loss that can affect both men and women and ultimately some of them will suffer from baldness.
Our hair is our tiniest organ in our body and is extremely complex. It is a fiber that needs to be nourished and taken care of.
To maintain an healthy scalp and healthy hair follicles, respect the following guidelines:
Follow a well-balanced diet.
Take vitamin B, 6, and 12, and vitamin D.
Make sure you wash your hair regularly
Green wealth neo hair lotion
Neo Hair strives hard to combine human innovation with the blessings of nature to improve hair health for men and women
Neo Hair Lotion uses Cucumis Melo Extract which is a form of Vitamin B required to prevent hair loss and promote hair growth.
Neo Hair Lotion can be used by both men and women who are looking for a solution to minimize hair loss and and get improved hair strength.
Neo Hair Lotion was created by Dr. Phaiboon Maraphruekwan in Thailand.
Green Wealth Neo Hair Lotion Ingredients
Ingredients: Purified Water, Ethanol, Ethoxy Diglycol, Propylene Glycol, Ginseng Extract, Saw Palmetto Extract, Cantaloupe Extract, Coconut extract hair treatment wax and wild honey wax treatment
Usage : Comb your Hair 2-3 times and spray Neo Hair Lotion on the scalp, then gently comb the whole scalp. Use regularly morning and night.
Saw palmetto extract
Saw palmetto is a supplement made from the fruit of the Serenoa repens tree. This fruit extract is used in hair loss products to prevent the effects of dihydrotestosterone, which is responsible for both male and female-patterned alopecia. Saw palmetto is also often used to enhance new hair growth.
Cucumis melo extract
Cucumis melo is also is known as honeydew melon or cantaloupe extract. The fruit, seeds, and root extract all are beneficial for the skin. It contains vitamin A and C, flavonoids, volatile oils, pectin, and fructose.
Equisetum Arvense extract
The botanical name for horse tail is Equisetum arvense. It contains high amounts of natural silica, which is a compound that strengthens hair and nails and provides resistance to hair breaking.
Ginseng radix alba
Ginseng is believed to increase the dermal cells on the scalp which, in turn, helps achieve strong hair follicle and strong hair root. Ginseng nourishes hair roots and encourages the new growth of strands. It also prevents hair thinning and breakage and helps reduce hair loss.
Coconut extract hair treatment wax and wild honey wax treatment
Honey is used as a wound healing treatment because of its ability to promote cell growth.
Honey can promote the growth of scalp cells and blood circulation. The scalp is full of epithelial cells that make up the many follicles and ducts so important for hair growth.
In addition, honey has both emollient and humectant properties, making it a great hair moisturizer and it is a great source of beneficial amino acids, vitamins, and minerals.
You can use honey in scalp treatments to clean your scalp and alleviate dandruff and dermatitis. It also has moisturizing benefits for both the hair and the scalp.
Where can I buy the Neo hair lotion online?
If you want to buy the neo hair lotion online, we recommend to get the best Noon coupon code on Almowafir. You are then guaranteed to have the best price for your purchase on Noon and you will be able to enjoy the Neo hair lotion at an unbeatable price.
You can combine the Neo hair lotion with a derma roller for increased efficiency.
Different packs with the Neo hair lotion 120 ml are available so choose the one that best suits your needs.
How can derma rollers stimulate hair growth and healthy hair
Derma rollers work in two main ways –
they prompt the scalp to produce more collagen which then makes strong hair follicle. The fundamental purpose of collagen is to build and maintain connective tissue, such as skin, tendons, and ligaments. It also gives rise to keratin, an essential protein that makes up hair.
they also improve blood flow. The epidermis reacts to the wound by sending more blood to the wound to heal it. Afterwards you may consider applying peppermint oil on your scalp but be aware that peppermint oil might generate skin tingling. Initially, consider slowly introducing peppermint oil by mixing it up with castor oil.
Fake copies of Neo Hair lotion
Be aware that there are fake copies of the Green wealth neo hair lotion and the genuine product should always have the 3 elements below: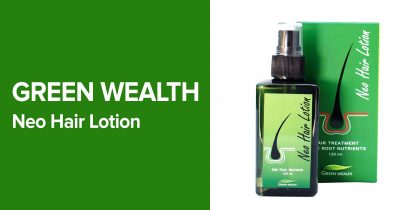 Registered Sales Member
Neo Hair Lotion is sold by the distributors/sales members from Green Wealth Company Thailand, only.
Price Standard
Neo Hair Lotion has only one fixed retail price.
Proper Certification
The genuine product will be GMP Certified (Good Manufacturing Practice).
It will also be approved by FDA Thailand (Food and Drug Administration)