When it comes to shoes or sneakers, one of the most popular and classic shoe brands that people know is Converse. The Converse company was founded in 1908 in the US state of Massachusetts and has been a subsidiary of Nike since 2003. Although it has been making shoes since the 1900s, its claim to fame was formed in the 1920s, when the Chuck Taylor All-Stars, which is named after American basketball player Chuck Taylor, was created.
The Chuck Taylor All-Stars was a popular shoe for basketball players during the 1940s up to the 1960s, but it went down in popularity in the 1970s when basketball shoes with better designs and cushioning systems were created. However, the shoe experienced a resurgence in popularity in the 1980s, but by that time, the All-Stars became widely known as casual footwear.
Today, the Chuck Taylor All-Stars is considered a classic that could go with anything. There are many shops and malls where you can buy Chuck Taylors, but one of the best is Vogacloset, where you can get a Vogacloset discount code to save money for your purchase. If you are looking for Chuck Taylor All-Stars to wear, here are the most stylish converse shoes you can buy online.
Chuck Taylor All-Star High Top Black
The most recognizable shape and color of the Chuck Taylor All-Star is the high-top version in black. One of the reasons why black Chuck Taylors are very popular is that it is incredibly versatile because they can match nicely with any outfit. If you want to wear a beautiful dress, a pair of pants with a denim jacket, or just a shirt and shorts, a black Chuck Taylor will go well with those. Get a pair of black Chuck Taylor All-Star shoes if you want something versatile.
Chuck Taylor All-Star High Top White
Another popular variation of the Chuck Taylor All-Star is the high-top version in white. Much like the black Chuck Taylors, the white version is also very versatile, although it would usually fit more with lighter-colored outfits since it provides subtlety so that the top you are wearing will shine a little bit more.
The reason why the white Chuck Taylors are not as popular as their black counterpart is that many people are scared to wear white shoes because they can easily get dirty. But, if you are the type of person that is careful about where you step on, you wouldn't have to deal with the dilemma of wearing white shoes.
Chuck Taylor All-Star Ox Black
If you are not a fan of high-top shoes, you should get the Chuck Taylor All-Star Ox in black. The "Ox" in this Chuck Taylor variant's name means "Oxford," which is a type of low-top shoes. So, if you see the Ox term right next to the Chuck Taylor All-Star name, it would mean that the shoe has a low top.
What's great about the Chuck Taylor Ox is that it can also pair well with almost any outfit, although some might say that it is more versatile than the high top. In addition, many would also say that low-top Chuck Taylors are much more comfortable to wear since they won't restrict your ankles, and they won't feel too warm since low tops cover less of your feet. You can use a Vogacloset promo code on the Vogacloset website to get the All-Star Ox for a lower price.
Chuck Taylor All-Star Mono High Top Black
For those that want to rock an all-black or monochrome outfit, they should wear the Chuck Taylor All-Star Mono High Top. While the regular black Chuck Taylors have a white midsole and gum (brown) outsole, the Chuck Taylor Mono features a black outsole and midsole that is perfect for people that don't want shoes that are too flashy. Moreover, the iconic Chuck Taylor logo at the inner sides of the shoes is also in black, so the shoes are completely monochrome.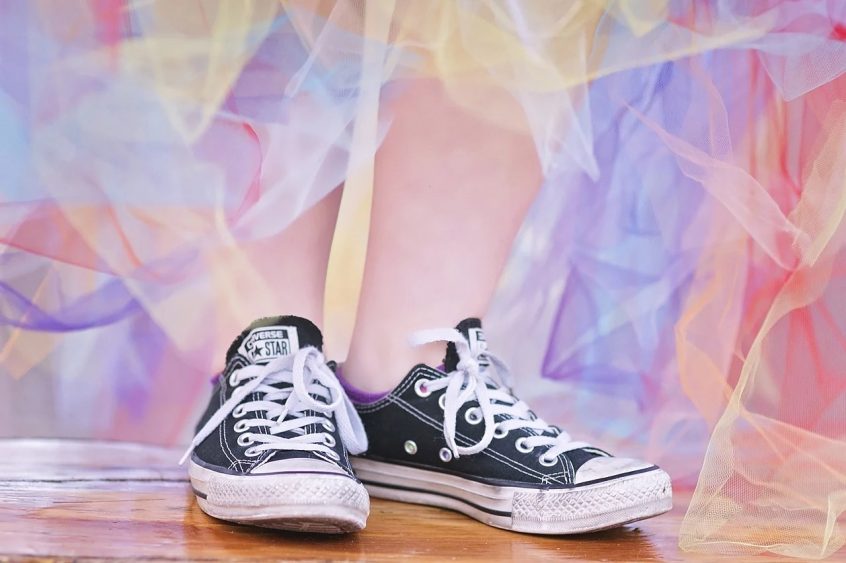 Chuck Taylor All-Star Lift
If you are looking for stylish platform shoes that have the classic Chuck Taylor look, you should take a look at the Chuck Taylor All-Star Lift, which features a midsole that is much higher than the regular Chuck Taylor midsole.
Platform shoes are usually worn by women that want to appear much taller than their normal height, but it is also worn by those that want to highlight their shoes or bottoms more than their top. Wearing platform shoes may take some time to get used to since your feet will feel unnaturally too high from the ground, but it would feel more comfortable to wear eventually.
Chuck Taylor All-Star Dainty
Even though the Chuck Taylor All-Star low tops are already fairly low and simple, there is another variant of the Chuck Taylor that is marketed by Converse to be much lower and lighter. This variant is called the Chuck Taylor All-Star Dainty, which may look like a regular Chuck low top, but it has a scaled-down toe cap and tongue label so that it would appear lower.
Furthermore, it also has a slimmer profile compared to the regular Chuck low top, so this shoe is more suitable for people with smaller or thinner feet. Despite being lower and slimmer, the Dainty still features support and cushioning, as it has a TPU heel counter and EVA insole.
Chuck Taylor All Star Ox Mono White
The last Converse shoe on this list is the Chuck Taylor All-Star Ox Mono White, which is arguably the simplest Chuck Taylor variant you can buy. While the regular white Chuck Taylors are already very simple, the All-Star Ox Mono features an all-white appearance as opposed to the former that has red and blue stripes on the midsole.
The branding of the All-Star Ox Mono is also in white, so it is very "lowkey" to wear and is possibly more versatile than any other Chuck Taylor version. Wear this with any light-colored outfit so that your shoes won't grab too much attention from the outfit's overall look.
And those are the best and most stylish Converse shoes that you can buy in Vogacloset and other online shops. Be sure to compare the prices and the look of each version of the Chuck Taylor to know which one is the most suitable for you.