Centrepoint Best Deals
Still Looking?
Here are some offers you might like
Centrepoint is a fashion store for the whole family including women, men and children. Almowafir has Centrepoint sales on cosmetics and personal care, as well as home accessories, home decoration, and furniture. Centrepoint offers its services to online shoppers in the UAE, Saudi Arabia, and Bahrain. Centrepoint promo codes are also available on Almowafir as available.

Centrepoint is part of the Landmark Group, a multi-national company with a number of leading brands and brands in various fields. Centrepoint offers its customers the latest designs and latest fashion from the most famous international brands, including clothing for the whole family, maternity, large size clothing, shoes and accessories such as bags, wallets, sunglasses, and watches. You'll find Centrepoint sales on cosmetics, makeup, skincare, hair and personal care for women and guys. Almowafir also provides Centrepoint promo codes on a comprehensive range of home furnishings, home décor accessories, furniture, and textiles, as well as all the equipment, toys and supplies to take care of your children.
Centrepoint offers its customers a premium shopping package, which includes a commitment to offering only original products with quality assurance, reliable and secure payment methods including payment on delivery and installments, free shipping and fast delivery, convenient return policy and easy return procedures, loyalty program and a 24-hour customer service center.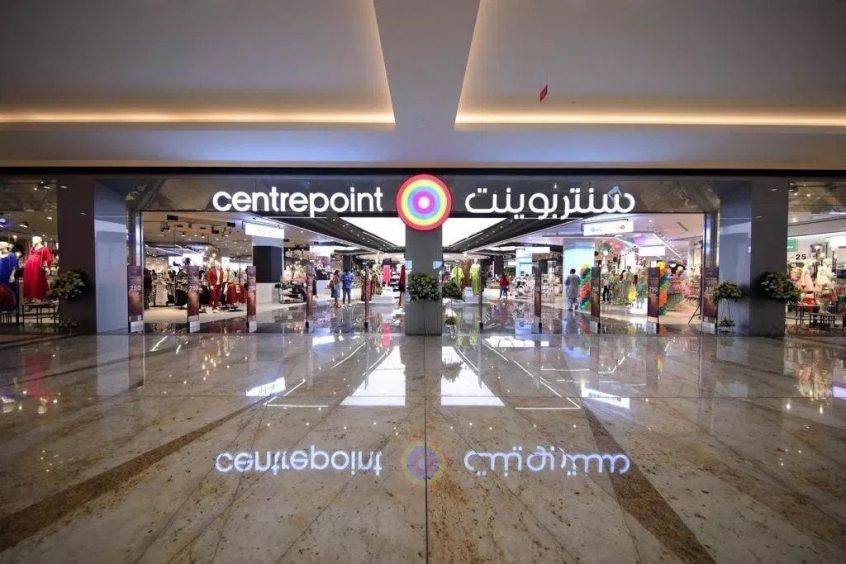 Centrepoint is one of the leading stores for online fashion shopping and saving money. Some of the main reasons why we recommend Centrepoint as your next destination for online fashion and cosmetics shopping is:
Genuine Products with Guaranteed Quality – Only genuine and high-quality products are offered on Centrepoint's website.
Money Savings – Almowafir has Centrepoint sales on many products for all ages throughout the year, as well as Centrepoint discount codes and Centrepoint coupons. Find all this and more, exclusively on at Almowafir.
One-Stop-Shopping – Centrepoint offers its products for the whole family and for all the rooms in the house as well, which means that you can buy everything necessary for your family and your home in one place – clothes, shoes, accessories, furniture, furniture, textiles and decorative items.
High-Quality Shopping Services – Centrepoint stores free and fast shipping of all products, provides you with modern and secure payment options such as cash on delivery and installments and allows you to return products and recover the price according to a convenient and easy return policy.
Centrepoint is a modern fashion store for the whole family, home, home decor, furnishings and textiles. The most important categories on which you'll find Centrepoint sales are:
Women's Fashion – This is the most popular department on Centrepoint (the second being Children's Fashion). Shoppers can choose dresses, tops, trousers, sportswear, maternity clothes, underwear, undergarments, plus size clothing, as well as modern footwear and accessories. Lee Cooper, Elle, and Iconic are the most popular, as well as Sketchers.
Men's Fashion – Centrepoint offers many men's designs for all occasions and looks, including Kappa underwear, Kappa sportswear, Arrow formal shirts, t-shirts, casual and stylish Lee Cooper pants and jeans. Large sizes, shoes, accessories, wallets, hats, sunglasses and some fragrances are also available in abundance!
Children's Fashion – a category with a very wide range of children's clothing for boys and girls between the ages of 4 and 14 years, including all clothing for all purposes and occasions. This category includes toys, toys, school supplies, and fashion accessories. Centrepoint offers clothes for newborns, infants, and children up to 4 years of age, and all the supplies needed by parents to look after their children as they grow up. Popular brands include Juniors, Sketchers, Barbie, and Disney.
Cosmetics – a category with a range of cosmetics and personal care products such as makeup, skincare, hair and nail care & perfumes. You'll find all of the most famous brands in the world of beauty, and the most popular cosmetics by NYX Professional, Revlon, Le Palais Des Parfums and many other brands.
Home and Living – a very comprehensive and varied category that offers you what you need to decorate your home. You'll find home furnishings and home decor in all its forms and purposes, including textiles, curtains, lighting, decorative accessories, and everything else related.
Centrepoint offers its customers many original products for the most famous international brands in the world of fashion and in the world of children. You'll find Centrepoint sales on top brands, including:
Lee Cooper – a British fashion brand famous for its jeans and trousers. Many original Lee Cooper products for the whole family, are on the Centrepoint site. The most popular are jeans trousers and shoes.
Kappa – a famous Italian brand in the world of sportswear and footwear.
Arrow – one of the trademarks of the American company PVH global, which specializes in the manufacture of men's clothing from elegant to casual. From Arrow's original collection, Centrepoint offers a wide range of stylish shirts in different designs and colors.
NYX Professional Makeup – a famous brand in the world of cosmetics and makeup, from French company L'Oreal Paris. NYX features cosmetics for the face, eyes and lips as well as various make-up tools and products at amazing prices. One of the most influential cosmetic brands in the world, many love NYX products for their creativity. Many of NYX's original products are listed on Centrepoint and are gaining popularity among shoppers.
Le Palais Des Parfums – a new French brand that specializes in the manufacture of luxury French perfumes. Find some of these original luxury fragrances offered at Centrepoint.

Other popular brands to look for on Centrepoint:
Elle
Skechers
Iconic
Barbie
Disney
Revlon
Bourjois Bourjois
Rimmel London
Max Factor
Maybelline New York
L'oreal Paris
Centrepoint offers free and fast shipping on all products to the UAE, Saudi Arabia and Bahrain, provided that the total value of the order is not less than 200 AED, 100 SAR or 20 BHD. If the total order value does not meet the minimum amount for activating the free delivery service, a shipping fee of 10 AED/SAR or 1 BHD will be charged.
If Cash on Delivery is selected as the method of payment for the transaction, you will be charged a COD fee of 10 AED, 17 SAR or 1 BHD.

Your total fee will be displayed during the payment process onsite.
Credit Cards – Visa, MasterCard. Also local credit and debit cards issued in the UAE, Saudi Arabia and Bahrain.
Cash on Delivery (COD)
PayPal Account
Shukrans – These are Centrepoint's loyalty club points. A minimum of 200 points can be used to apply a discount to your order.
Gift Cards – Option available in UAE and Bahrain.
Installment Payment With NO Interest – The option is available in the UAE and Saudi Arabia for orders not less than 1000 AED/SAR. Check which banks qualify you to use your credit card to pay in installments.
SADAD OLP (Online Payment) – The service is available in Saudi Arabia only. It allows you to pay online securely online.
Centrepoint offers its customers free returns and refunds within 14 days of delivery on all returnable products, in the following cases:
You do not like the product – it can be returned provided the product is clean and intact and has not been used.
In the case that it is defective.
You must attach the original invoice, all accessories, promotional gifts and warranty cards to the product.
After verification of the product, the payment will be returned to your card or account within 2-15 days, or by issuing a voucher for the value of the product if you paid with COD (Cash on Delivery) or Shukrans.
Namshi
Ounass
Nisnass
Max Fashion
Shein
Elabelz
Newchic
FarFetch
OwnTheLooks
6th Street
Voga Closet
Why should I look for Centrepoint Sales & Offers on Almowafir ?
Centrepoint offers its customers promo codes that you can use on fashion, clothing, shoes, accessories, jewelry and watches. Almowafir brings you Centrepoint sales from the best brands for the whole family, including cosmetics and make-up from the most famous brands in the world. Through Almowafir, you can exclusively get the best Centrepoint coupons and Centrepoint promo codes that you can use on many outfits with different designs for different looks. Check Almowafir for terms and conditions and the validity of coupons and discount codes.

How can I collect Shukrans and buy what I want from Centrepoint online shopping?
Shukran is a Landmark Group loyalty program where you can earn Shukran points when you buy from Landmark Group stores and then convert them into cash to spend on your purchases, deducting the points from the total value of your order. Joining the program is free and ensures your membership for life and without any fees. Remember that if you return a product and have earned Shukran points, they will be deducted from your Shukran credit.

What is the Buy Now on Centrepoint?
When you click on 'Buy Now' your data will automatically be used on Centrepoint's online store to make an instant payment, which includes your preferred payment method and the address to which it will be shipped. You make the purchase and complete it on the product page, but you can, of course, edit the data while completing the payment. This service saves you time when you purchase the product. Especially if you need only one product, this method of purchasing will help you skip a few steps.

How can I distinguish between
payment on delivery and shipping charges
from Centrepoint?
Centrepoint offers free shipping, but when you use Cash on Delivery you will be charged an additional fee, payable to the shipping company. You can avoid these fees by using other payment options.

Can I shop from Centrepoint as a guest user?
It is not necessary to create a Centrepoint account if you wish to shop only once. You can always shop as a guest user, but of course you must share your address and payment method in order to complete the payment and ship your order to you.

How can I determine my size at Centrepoint?
If you are not sure or have difficulty determining your size, you can use the size-guide to help you. Centrepoint's size guide is found under the product details. Be sure to buy clothes that fit your size by choosing from several approved international models according to the brand you want to purchase. Follow the simple instructions, choose between centimeters and inches, and remember – if you get an outfit that doesn't fit, you can return it within 14 days.