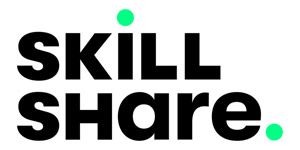 Learn New Skills And Save Money With The Skillshare Dec 2023 Promo Code

Saving money on Skillshare has never been easier with Almowafir's exclusive promo codes. The current offer allows you to unlock 2 months of unlimited access to Skillshare's diverse library of classes absolutely free. This means you can explore numerous… Read more about Skillshare coupons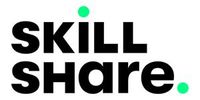 Last used 10 hours ago
Show details
Hide details
Still Looking?
Here are some offers you might like
Skillshare Promo Codes & Deals
Skillshare Coupon Stats
Total offers: 1
Coupon codes: 0
Skillshare Discount Tips – Get 2 Months For Free With Almowafir's Dec 2023 Promo Code
Saving money on Skillshare has never been easier with Almowafir's exclusive promo codes. The current offer allows you to unlock 2 months of unlimited access to Skillshare's diverse library of classes absolutely free. This means you can explore numerous subjects across various creative fields without any restrictions, making it the perfect opportunity to broaden your skillset.
In addition to Almowafir's unique promo code for 2 months of unlimited classes, Skillshare also provides a 1-month free trial for new users. This trial period gives you a risk-free opportunity to explore Skillshare's vast range of classes and get a sense of the learning experience on the platform.
To get the 1-month free trial, simply create a new account on Skillshare's website. Once you've registered, you will be automatically eligible for the free trial. During this period, you will have unlimited access to all classes and can engage fully with the Skillshare community.
Combine the 1-month free trial with Almowafir's exclusive 2-month promo code for an incredible 3 months of comprehensive learning at no cost. Embark on your creative journey today with Skillshare and Almowafir.
About Skillshare
Skillshare is a prominent online learning platform that provides a broad spectrum of classes for curious and creative individuals. This platform provides education in numerous disciplines, including but not limited to illustration, design, photography, video, freelancing, and other creative domains. Skillshare's unique approach allows its users to not just learn new skills but also discover new passions and perspectives while engaging with a like-minded community of learners.
Skillshare's primary offering is a vast catalog of high-quality courses crafted by industry professionals. These courses are designed to inspire students, broaden their skillset, and facilitate personal and professional growth. The platform focuses on interactive and experiential learning, ensuring that students can apply what they learn in real-life scenarios.
A distinguishing feature of Skillshare is its commitment to fostering a dynamic and interactive community. Members can interact with each other, provide feedback, share their work, and learn from each other's experiences. This interactivity fuels inspiration and motivates members to continue their journey of exploration and creativity.
Another notable aspect of Skillshare is its focus on accessibility. The platform offers both free and premium memberships, ensuring that quality education is within reach for everyone. The premium membership provides unlimited access to all courses, allowing students to delve into any area that piques their curiosity.
Skillshare also offers opportunities for educators and experts to share their knowledge and skills. Teachers on Skillshare not only have a platform to impart their expertise but also a means to earn income from their courses. This reciprocal relationship empowers both learners and educators, further enriching the learning experience on the platform.
Skillshare is a comprehensive online learning platform that facilitates creative exploration and learning. It caters to a diverse range of learning needs, promotes community engagement, and offers opportunities for both learning and teaching. Whether you're looking to enhance your professional skills, explore new hobbies, or connect with a community of creatives, Skillshare has something for everyone.
How Do I Use Skillshare Promo Code
Using a Skillshare promo code is a straightforward process. Follow these steps to enjoy discounts on your Skillshare classes:
Visit the Almowafir website or app and search for the Skillshare page.
Browse through the list of available Skillshare promo codes and deals. Once you find an offer that suits your needs, click on it to reveal the promo code. If the deal doesn't require a code, you'll be redirected to Skillshare's website with the discount already applied.
Copy the revealed Skillshare promo code.
Go to the Skillshare website and select the courses you want to enroll in. Add them to your cart.
Proceed to the checkout page. Here, you will find a box or field labeled 'Promo Code'.
Paste the copied Skillshare promo code into this box.
Click 'Apply' or a similar button to activate the discount.
Check the total cost to ensure that the discount from the promo code has been applied and complete your purchase.
Remember to always check the terms and conditions of the promo code. Some offers might be applicable only for specific courses or for a certain period. Now, enjoy your learning journey on Skillshare at a discounted rate!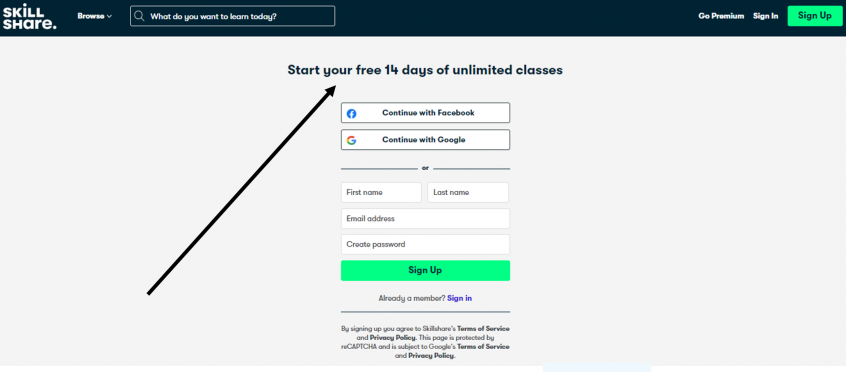 Skillshare Website Features
General Support Inquiries:
For general inquiries, Skillshare's Support team can be reached via email at help@skillshare.com. Alternatively, you can submit a ticket or initiate a live chat for immediate assistance.
The team is equipped to offer support in multiple languages, including Spanish, German, French, and Portuguese, though longer wait times may apply. For common questions, consider checking the frequently asked questions resource.
If you are a teacher on Skillshare and require assistance, a dedicated Teacher Support team is available at teach@skillshare.com. There's also a comprehensive resource to support common queries.
For questions related to Skillshare for Teams accounts, resources are available on the Skillshare website. For more personalized assistance, the Skillshare for Teams support team can be reached at teamhelp@skillshare.com.
For press-related inquiries, Skillshare's media center is a useful resource. The press team can be contacted directly at press@skillshare.com.
Organizations, institutions, or entities interested in partnering with Skillshare can get in touch at partners@skillshare.com.
Skillshare is constantly looking for talented individuals to join their team. Interested candidates can learn more about the company and the available opportunities on the Skillshare Careers page.
In addition, given the nature of Skillshare's online learning services, the traditional concept of product returns and extended warranties do not apply. When you enroll in a course on Skillshare, you gain immediate digital access to educational content. Therefore, it's not feasible to return or exchange this intangible service in the same way you might with physical goods.
Shipping Methods
As an online learning platform, Skillshare does not require traditional shipping methods. Once you enroll in a course, you gain immediate access to the course content. You can learn at your own pace, from the comfort of your home, or anywhere with internet access. Courses are delivered digitally through the Skillshare platform, eliminating the need for physical shipping.
Payment Methods
Skillshare aims to provide a seamless and convenient experience for all its users. As such, it accepts several payment methods for its premium memberships and services. Here are the primary payment options available on Skillshare:
Credit and Debit Cards: Skillshare accepts all major credit and debit cards, including Visa, MasterCard, American Express, and Discover.
PayPal: Users can also opt to pay using their PayPal accounts for a fast and secure transaction. Please note that PayPal availability may vary based on your country of residence.
Apple Pay and Google Pay: For mobile users, Skillshare also accepts payment through Apple Pay and Google Pay, providing a quick and easy way to manage transactions.
SEPA Direct Debit: For users within the Single Euro Payments Area (SEPA), Skillshare accepts payments via SEPA Direct Debit.
Return Policy And Refund Policy
Given the nature of Skillshare's digital services, the standard concept of product returns is not applicable. Unlike physical goods, the digital educational content provided on the platform cannot be returned once accessed.
However, they do have a refund policy in place. Here are the key points to note:
Skillshare permits one refund per customer, ensuring users can try their premium services with peace of mind.
Refunds for annual memberships are available within 14 days of the charge. After this period, refunds cannot be processed.
Monthly memberships are not eligible for refunds.
Special considerations are made for payments made through a SEPA direct debit. In this case, refunds can be requested up to 8 weeks after the initial payment.
For users who signed up through the 30-day money-back guarantee offer, refunds can be requested up to 30 days after payment.
Skillshare Deals And Coupon Codes For Dec 2023 FAQs
Question 1: What is Skillshare, and what services does it provide?
Answer: Skillshare is an online learning platform that offers thousands of classes across a variety of creative fields. Topics range from illustration, design, photography, video production, freelancing, and more. Skillshare aims to foster a community where members can learn, discover, and connect through creativity.
Question 2: How can I apply a promo code on Skillshare?
Answer: You can apply a promo code at checkout. After selecting your courses and proceeding to checkout, find the box labeled 'Promo Code', paste your code, and click "Apply". Ensure that the total cost has been reduced to reflect the promo code discount before completing your purchase.
Question 3: What payment methods does Skillshare accept?
Answer: Skillshare accepts all major credit and debit cards, PayPal, Apple Pay, Google Pay, and SEPA Direct Debit.
Question 4: I'm facing issues with my Skillshare course, who should I contact?
Answer: If you encounter any problems with a course or need assistance, reach out to Skillshare's customer service team at help@skillshare.com. They can address your concerns and provide solutions.
Question 5: Does Skillshare offer free trials?
Answer: Yes, Skillshare offers free trials and promotional offers that provide free or discounted access to their platform for a limited time. Check the Almowafir website for the latest Skillshare promo codes and deals.
Question 6: Can I teach a course on Skillshare?
Answer: Yes, Skillshare allows experts in various fields to share their knowledge and skills. If you're interested in teaching a course, you can reach out to the Teacher Support team at teach@skillshare.com for assistance and resources.