Men like women love to choose their jeans wisely.
There are so many jeans models and so many jeans brands that it is hard to choose the model that will be the best fit for your body and for your budget.
The best jeans for men won't just get you through the obligation of getting dressed casually, they will make you look smart and confident as hell, too. Jeans are the world's most popular piece of clothing and can be used and accessorized in many different ways.
The most popular men's jeans
Levi's.
This is a brand that should be part of every man's wardrobe. Levi's best sellers include:
501 Original Fit.
505 Regular Fit.
511 Slim Fit.
514 Straight Fit.
550 Relaxed Fit.
711 Skinny.
721 High Rise Skinny.
501 Skinny.
Wrangler.
Some of the most popular models include:
Wrangler Classic Straight Fit Jean
Wrangler Cowboy Cut Slim Fit Jean
Wrangler Retro Fit Boot Cut Jean
Acne Studios North Skinny Jeans.
The skinny jeans are available in indigo and mid blue and they are the brand's best sellers.
Ralph Lauren RRL Slim Fit Selvedge Jean.
This specific selvedge denim is woven on vintage wooden shuttle looms to create 15.9 oz. right-hand twill that is exclusive to Ralph Lauren RRL.
Gap Soft Wear Jeans.
These are Gap's best selling slim jeans. They are made of supersoft denim combined with GapFlex stretch technology for extra flexibility and total comfort.
APC Martin Jeans.
These jeans are also made of soft, non-selvedge denim. They have a straight and rather loose leg and an enveloping high-rise. If you have muscular legs, this can be a good pair of jeans.
Filson Rail-Splitter Jeans.
These high quality pants are straight leg jeans and have enough room to move, squat and climb without binding.
Naked & Famous Super Guy Jeans.
the Naked & Famous Denim "Super Guy" fit is a skinny fit jeans throughout that tapers heavily from the knee down. That jean tends to fit small, so we recommend going one size up. (this is applicable for skinny jeans and also white jeans)
Which denim color is trendy in 2022?
The most popular denim color in 2022 seems to be the mid-wash indigo denim. This color is becoming more and more popular, and it indicates a shift away from lighter colors. Raw indigo denim is, as always, still a great option because this is a versatile color giving you a smart style to cope with smart casual duties.
Dubai Dress Code for men and women
While skin tight jeans may be fine in the night clubs, refrain from wearing them in public places as they are considered offensive. Ripped jeans are not allowed in Dubai for men and women.
How to wear jeans in 2022?
Given the more tailored look of skinny jeans, they are now the preferred option for more smart casual looks. Combine skinny jean with knitwear, collared shirts and casual blazers and ties and you have an excellent outfit for the office or for the evening. Jeans are also a perfect match with more casual pieces like a simple tee-shirt and bomber jacket.
Muscular men with strong legs should prefer regular fit jeans with wider leg instead of skinny jeans.
Noon and Amazon are the largest retailers in the KSA and the UAE and are a one stop shop for all your fashion needs. They have a wide range of men's jeans and you are sure to find a pair of jeans for your body shape and budget. Get the Almowafir coupon code for Amazon and the Almowafir discount code for Noon and use them to obtain an unbeatable price on the pair of jean you wish to buy.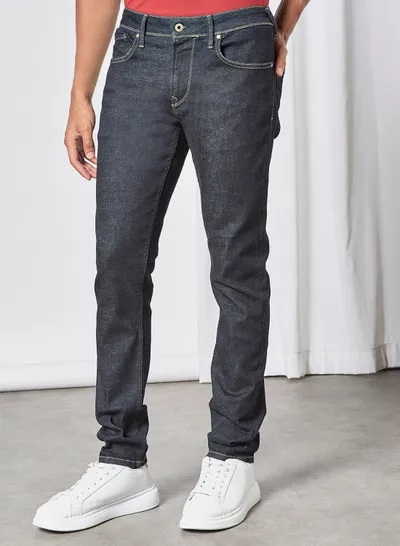 What are the most popular jeans on AMAZON currently?
Of all the denim brands, it seems that Wrangler offers jeans for men that constantly receive the best reviews.
Wrangler mens Texas Contrast Straight Jeans Straight Jeans
Wrangler Men's Retro Relaxed Fit Boot Cut Jean, Rocky Top, One size
The models below also seem to be extremely popular:
Lee relaxed straight fit jeans
Calvin Klein straight-leg jeans
Carhartt rugged flex relaxed-fit, double-front utility logger jean
Lee Men's Performance Series Extreme Motion Straight Fit Tapered Leg Jean
What are the main jeans categories?
Straight leg jeans brands
While leg widths has been evolving over the last decades, the straight-fit jean has always remained cool.
Classics include:
Levi's 501 original fit jeans
Todd Snyder straight fit stretch jean
3sixteen CS⁠-⁠100xk classic straight jean⁠ in rinsed indigo Kibata
Slim fit jeans brands
Some of the most popular models are the ones below:
Everlane selvedge slim fit jean
J.Crew 484 slim-fit jean
Tellason Stock slim tapered fit jeans
Relaxed fit jeans
Gap '90s loose jeans
Noah 5-pocket denim jeans
Our Legacy Grey Third Cut Jeans
Athletic Fit Jeans brands
Abercrombie & Fitch athletic skinny jeans
Barbell straight athletic fit jeans
Glenn's Denim GD112 slouchy tapered jeans
Flared and Bootcut Jeans brands
Wrangler Cowboy cut 13MWZ original fit jeans
Abercrombie & Fitch bootcut jeans
Black jeans for men
Black jeans always look great and they give you a cool vibe for an evening event. White sneakers and dark color shoes will always perfectly complement slim-cut black jeans. Some of the most popular models include:
Dickies Houston relaxed jeans
John Elliott The Cast 2 distressed slim fit jeans
White jeans for men
They are cool all year round. White jeans are perfect for creating a stylish, smart casual outfit. They're also versatile and can be worn with a variety of outfits (with a blazer, with a shirt, with a white shirt). You can also wear them in winter and accessorize them with a grey sweater or a black leather jacket. White jeans are a bit less forgiving than black or blue jeans so if you want a model that will look good on you choose a straight leg or boot cut jean, rather than skin-tight to find that balance.
The models below are popular choices:
J.Crew 770 straight fit garment dyed jeans
Outerknown tapered white jeans